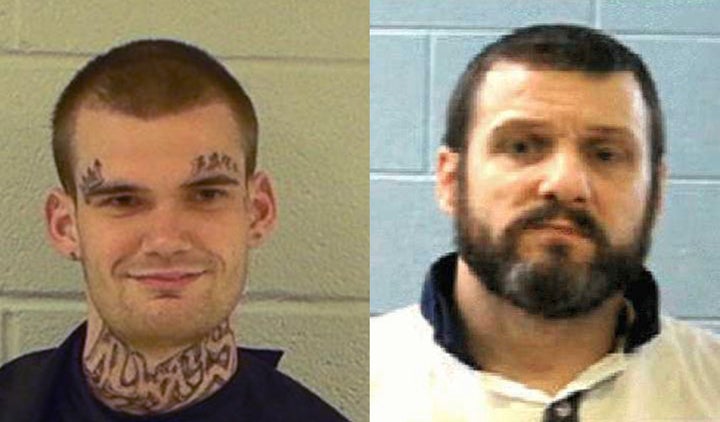 Putnam County Sheriff
Two Georgia inmates who escaped from a prison bus Tuesday after allegedly killing two prison guards were captured Thursday following a massive manhunt.
Ricky Dubose, 24, and Donnie Russell Rowe, 43, were captured Thursday, the Georgia Bureau of Investigation announced on Twitter. Georgia Gov. Nathan Deal tweeted that the escapees were apprehended after a car chase in Tennessee.
Dubose and Rowe, who had been serving long prison sentences for armed robbery, escaped while on a bus in rural Georgia. They somehow broke through the gate protecting the guards, stole the guards guns, and shot them, Putnam County Sheriff Howard Sills said.
The two men then allegedly carjacked a green Honda and fled.
Sills said the men were "dangerous beyond description" and the search for them eventually became "the greatest effort I have ever seen." By Thursday, a reward for information leading to their arrest had grown to $130,000.
After escaping in the stolen Honda, the men burglarized a home and swapped out of their prison clothing. Later, they stole a white pickup truck and got an hours-long head start on the police pursuing them.
On Thursday morning, Sills reiterated that "the public is in grave danger."
It was not immediately clear what led to the men's capture Thursday, though WSB reported that earlier in the day they had been spotted in Shelbyville, Tennessee.
This is a developing story. Check back later and follow BuzzFeed News on Twitter for updates.
LINK: Two Escaped Prisoners Who Allegedly Killed Guards Have Been Captured In Tennessee
Source: https://www.buzzfeed.com/usnews.xml