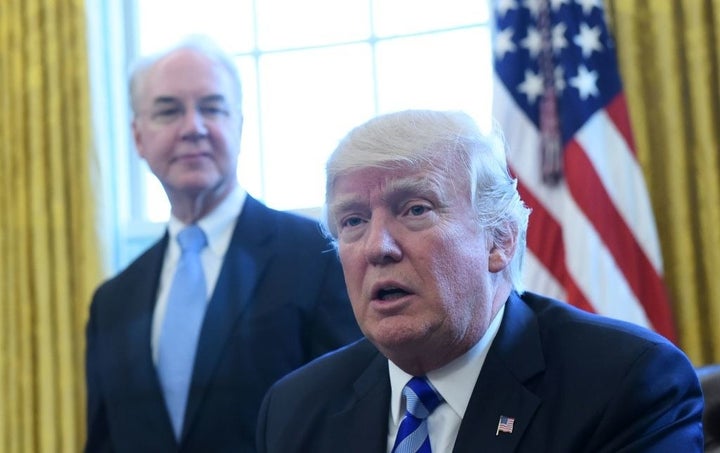 President Trump with Health and Human Services Secretary Tom Price in March.
Mandel Ngan / AFP / Getty Images
Six members of the Presidential Advisory Council on HIV/AIDS (PACHA) have resigned, furious at what they say is the new administration's regressive health policies and a lack of care from President Trump.
Scott Schoettes, Lucy Bradley-Springer, Gina Brown, Ulysses Burley III, Michelle Ogle, and Grissel Granados announced their resignations publicly in a joint letter for Newsweek magazine.
"As advocates for people living with HIV, we have dedicated our lives to combating this disease and no longer feel we can do so effectively within the confines of an advisory body to a president who simply does not care," they wrote.
"The Trump Administration has no strategy to address the on-going HIV/AIDS epidemic, seeks zero input from experts to formulate HIV policy, and—most concerning—pushes legislation that will harm people living with HIV and halt or reverse important gains made in the fight against this disease."
First established in 1995, PACHA is tasked with advising the White House on the best way to tackle the spread of the disease. Medical experts, public health officials, and people living with HIV/AIDS are appointed by each president and hold regular meetings. Roughly 21 people were members before this week's resignations.
But things have been different since President Trump arrived in the Oval Office on January 20, former members told BuzzFeed News.
"After the inauguration and after I saw how this administration is going after so many things that make a difference in HIV, I just felt like I can't be on that council and say I was working for the current administration," said Bradley-Springer, a retired nurse and University of Colorado Denver associate professor.
Schoettes, the HIV project director for Lambda Legal, said the administration has shown itself to be anti-science.
"I think there's a general sense that the atmosphere has changed and our job at the council was going to be much harder," he said. "It was my sense that I did not have any real say with this administration and that's in part because it's not an administration that wants to deal in facts, wants to deal in science."
"I think HIV was never a priority for this White House. The Trump campaign refused to even meet with HIV advocates," he said.
As part of the changeover in administrations, the Office of National AIDS Policy website was immediately taken down when Trump took over, but roughly five months into his presidency a new website is yet to be established. Further, like many positions in the executive branch, the president has still not appointed anyone to head the White House Office of National AIDS Policy.
"In the overall scheme of things, I don't think we're high on the radar because they have so many other things they're behind on," said Bradley-Springer, who has worked to treat HIV since 1988.
Bradley-Springer said she and her colleagues were also disturbed by the Republican administration's efforts to repeal the Affordable Care Act, which they said had benefitted people living with HIV, and defund Planned Parenthood, which provides STD testing and support services.
"I don't think this administration understands much about health," she said. "The more people that get infected with HIV the longer it's going to take us to get over this epidemic."
Scott A. Schoettes
Lambda Legal
The White House did not immediately respond to a request for comment.
Both Bradley-Springer and Schoettes said they anguished over whether to resign or stay on and continue to try to achieve change from inside the government.
"There's a role to be played both inside and outside," said Schoettes. "But I am now empowered and emboldened to speak my mind and say what needs to be said."
Bradley-Springer said she wishes the best for her former colleagues who opted to stay on.
"It could be that they will make a difference and we do need intelligent people who know what they're doing," she said. "But I thought resigning could be a statement I'm personally making, and making it with a group is better than making it by myself."
Source: https://www.buzzfeed.com/usnews.xml