"The point of AP is to teach how to think, not what to think."
After it surfaced online and was accused by students and parents of being too right-wing, administrators at Spanish Fort High School in Alabama pulled an Advanced Placement government class's reading list.
Google
The reading list began circulating after Elizabeth Denham, the mother of a senior in the class, posted a picture of it in a private Facebook group of local progressives.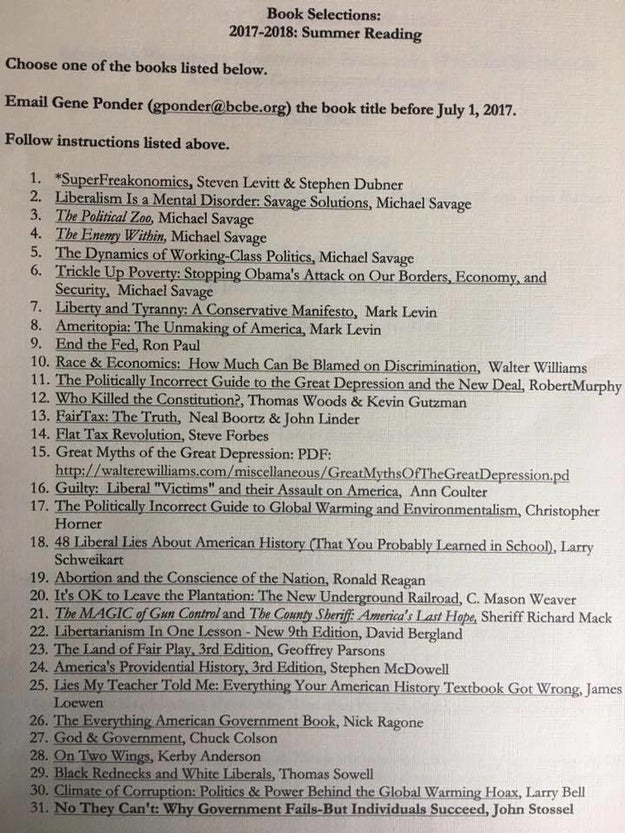 The list contains 31 titles, including Liberalism Is a Mental Disorder: Savage Solutions, The Politically Incorrect Guide to Global Warming and Environmentalism, and one by Ann Coulter. Students were supposed to choose one to do a report on.
According to members of the school community, the teacher, Gene Ponder, injects his lessons with far right-wing views.
Ponder assigned an identical reading list in 2014, which was available on the school's website until it was taken down Wednesday afternoon.
Ponder did not respond to multiple requests for comment from BuzzFeed News.
Advanced Placement (AP) classes are college-level courses created by the College Board to prepare high school students for university education.
The College Board did not immediately respond to request for comment on whether Ponder's course material fits official guidelines.
Supplied
In an email sent Wednesday evening and obtained by BuzzFeed News, school principal Brian Williamson said to "disregard this assignment" as "there is not a current summer reading list that has been approved by the school."
Baldwin County Superintendent Eddie Tyler, in a statement provided to BuzzFeed News, said the reading list "has not been endorsed by the school system."
"The list has been removed by the teacher," Tyler said. "Baldwin County Public Schools has a process to vet and approve reading lists so that a variety of sources are used. I expect all employees to follow our processes, procedures and policies."
Denham said she's grateful for the administration's swift response, but is concerned about how long the teacher had been assigning the reading list.
"The fact that it sat there for three years, I have a problem with," Denham said. "Nobody complained."
Supplied
During the race, Ponder took a radical limited-government stance, and said in an email that he wanted to stop the federal government's "coercion, intimidation and blackmail" of states, according to AL.com.
He proposed that "all compulsory federal legislation that directs states to comply under threat of force by civil or criminal penalties or sanctions…be prohibited and repealed."
Local politicians from both sides of the aisle criticized Ponder's strong words. His Republican primary opponent, Hank Erwin, said "language like that" bordered on secessionist.
"We're not trying to secede from the Union," Erwin said at the time.
---
Source: https://www.buzzfeed.com/usnews.xml