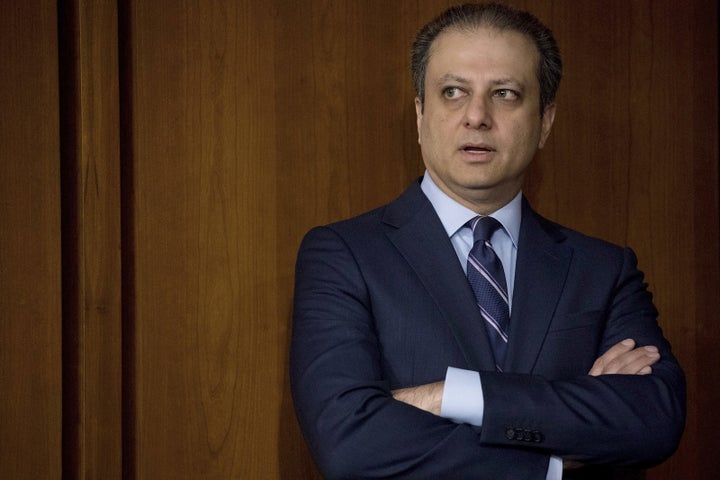 Andrew Harnik / AP
Former US Attorney Preet Bharara sent an email to Justice Department officials in New York complaining about a phone call he received in March from President Donald Trump's secretary, Madeline Westerhout, according to emails BuzzFeed News obtained Thursday under the Freedom of Information Act.
The memo, dated 7:11 p.m. March 9, recounts an interaction with the White House that had alarmed Bharara earlier in the day. On March 11, Bharara announced he had been fired as a federal prosecutor after refusing to resign.
"At approximately 4:41 pm, on 3/9/17, I received the following voicemail at work: 'Hi, Mr. Bharara. This is Madeline Westerhout calling from President Donald Trump's office. If you could please give me a call back at that would be great. Thanks,'" Bharara wrote in an email on the evening of March 9 to then-deputy US Attorney Joon Kim and Joan Loughnane, chief counsel to Bharara.
"After receiving that message, I immediately consulted with the Deputy U.S. Attorney, Joon Kim, about the propriety of returning the call. We printed out and reviewed a copy of the May 11, 2009 (as well as he December 19, 2007) Memos relating to Communications with the White House [redacted]," Bharara added.
Bharara said he spoke with Jody Hunt, chief of staff to Attorney General Jeff Sessions, by phone to discuss the president's request.
"I advised him of the phone call from the President, and we discussed the propriety of speaking with the President in light of all the circumstances, including appearances issues," Bharara said in the memo.
The following sentence — presumably giving more detail on the "circumstances" that would prevent Bharara from speaking with Trump — is redacted. Bharara ultimately decided not to speak with Trump and called back the president's secretary to say so.
The next day, Bharara and dozens of other US attorneys were asked to resign. He said he refused, and the following day, he was fired.
In a cryptic tweet on March 12, Bharara suggested that he had been investigating Trump for corruption.
"By the way, now I know what the Moreland Commission must have felt like," he tweeted.
The Moreland Commission, officially known as the Commission to Investigate Public Corruption, was disbanded by Gov. Andrew Cuomo in 2013 after it began to probe entities with ties to the governor.
During an interview earlier this month on ABC News' This Week, Bharara revealed to host George Stephanopoulos that he was contacted by Trump on several occasions since last December. He described the phone calls as "unusual."
"I was in discussions with my own folks, and in reporting the phone call to the chief of staff to the attorney general I said, it appeared to be that he was trying to cultivate some kind of relationship," Bharara said. "…It's a very weird and peculiar thing for a one-on-one conversation without the attorney general, without warning between the president and me or any United States attorney who has been asked to investigate various things and is in a position hypothetically to investigate business interests and associates of the president."
"So the call came in. I got a message. We deliberated over it, thought it was inappropriate to return the call. And 22 hours later I was asked to resign along with 45 other people," Bharara added.
Read the full series of emails
Source: https://www.buzzfeed.com/usnews.xml