This happened the same day the administration denounced Johnny Depp for joking about assassinating Trump.
Baldasaro made headlines last year after he told a talk-radio show that "Hillary Clinton should be put in the firing line and shot for treason."
[soundcloud url="https://api.soundcloud.com/tracks/274547958″ params="color=ff5500&auto_play=false&hide_related=false&visual=false&show_artwork=true" width="100%" height="166″ iframe="true" /]
"Hillary Clinton to me is the Jane Fonda of the Vietnam," Baldasaro said in July. "She is a disgrace for the lies that she told those mothers about their children that got killed over there in Benghazi. She dropped the ball on over 400 emails requesting back up security. Something's wrong there."
"This whole thing disgusts me, Hillary Clinton should be put in the firing line and shot for treason," he added. The US Secret Service then said it was investigating his remarks.
Baldasaro later said that he regretted "saying it the way I did" and blamed the "liberal media" for running with it.
At the time, Trump said he wasn't aware of Baldasaro's comments but told a local channel that he was "a very fine person."
"I will tell you he's a very fine person," Trump told local New Hampshire TV. "Nobody wants to take care of the veterans in this country, who have been treated horribly, more than Al, so that's what I know," Trump said.
Baldasaro told BuzzFeed News later that year that he stood by his comments on Clinton, but contended that they were misunderstood.
Baldasaro isn't the first person to get a White House invite despite threatening violence against Clinton. Musician Ted Nugent, who has made racist and anti-Semitic comments, and has called for Clinton to be "hung for treason," also visited Trump at the White House in April, posing for photos in the Oval Office.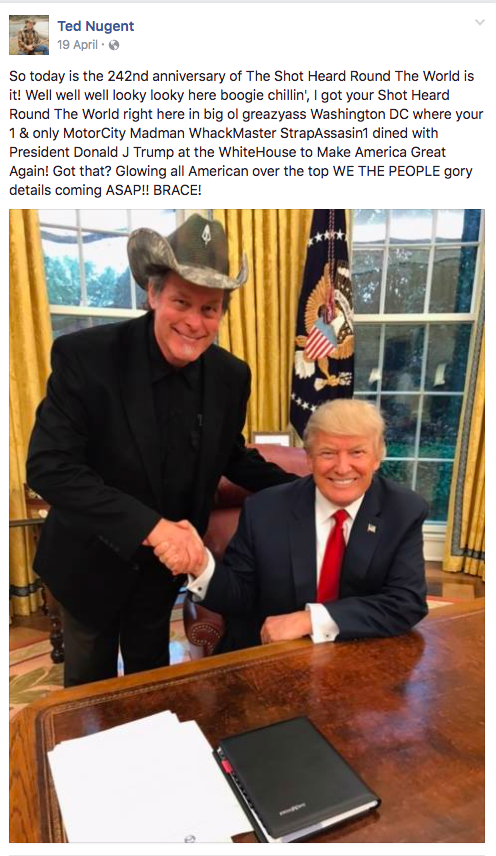 In a 2016 Facebook post, Nugent said President Obama and Hillary Clinton "should be tried for treason & hung."
"Our entire fkdup gvt must be cleansed asap," Nugent wrote.
Nugent also made threats to kill Obama and Clinton in 2007.
According to a Rolling Stone report, Nugent — who was carrying two machine guns — said, "Obama he's a piece of shit. I told him to suck on my machine gun."
He added, "Hey Hillary. You might want to ride one of these into the sunset, you worthless bitch."
---
Source: https://www.buzzfeed.com/usnews.xml