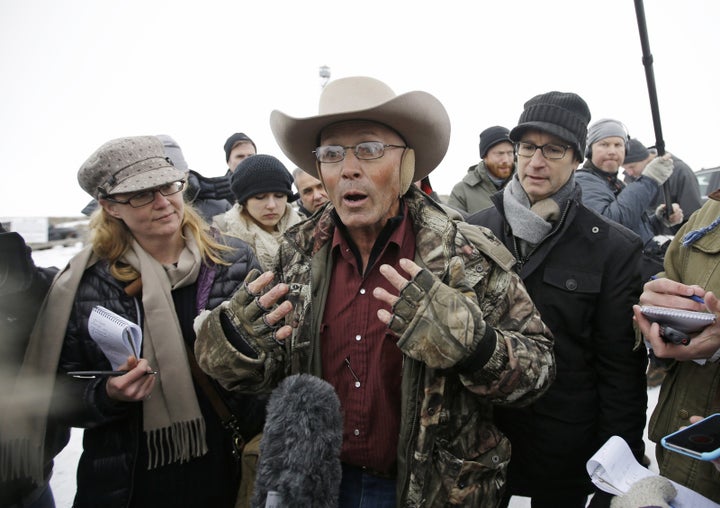 LaVoy Finicum, a rancher from Arizona.
Rick Bowmer / AP
An FBI agent is facing federal charges for allegedly lying about his role in the deadly shooting of Robert "LaVoy" Finicum in Oregon, an Arizona rancher killed at a wildlife refuge during an armed standoff with authorities in 2016.
Finicum was one of the leaders of the standoff at the Malheur National Wildlife Refuge, where he and dozens of others demanded the federal government turn the land over to state and local ranchers.
At the end of the month-long standoff, Oregon State Police and the FBI planned an operation to arrest Finicum and other leaders of the standoff on a winding one-lane road. Finicum tried to outrun officials and, after driving off the road to avoid a police blockade, was shot and killed as he appeared to reach into his jacket.
On Wednesday, a federal indictment was unsealed against FBI agent W. Joseph Astarita, in which he is accused of lying about firing his gun twice during the Oregon operation.
Astarita, according to the indictment, told at least three supervisors in the FBI that he had not fired his weapon, which would have prompted the FBI to dispatch its Shooting Incident Response Team to investigate.
The FBI agent, a member of the agency's Hostage Rescue Team, also denied firing his weapon to Oregon State Police on the day of the shooting, and then again a month later when investigators interviewed him to follow up on the case, prosecutors allege.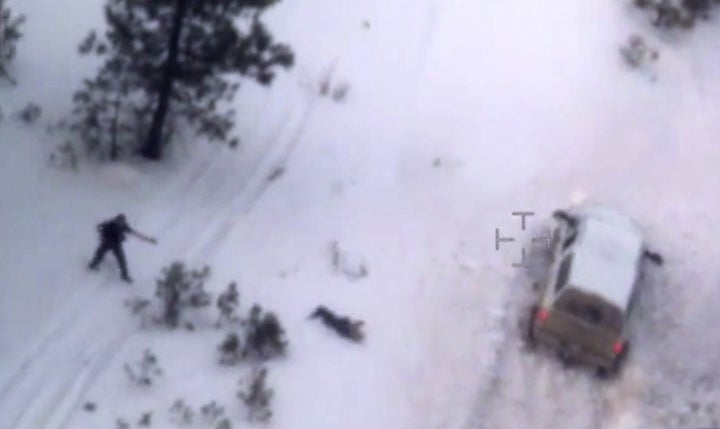 This Jan. 26, 2016., file photo taken from an FBI video shows Robert "LaVoy" Finicum, center, after he was fatally shot by police near Burns, Oregon.
Uncredited / AP
The Oregonian newspaper reported Astarita's attorney entered a not guilty plea in Portland federal court on Wednesday.
A state trooper is believed to have fired the three fatal shots that killed Finicum on Jan. 26, 2016.
Astarita was not charged in the shooting. And Malheur County District Attorney Dan Norris found the shooting to be justified.
But news about a federal inquiry into the shooting, as well as allegations that an FBI agent had lied about his role, fueled speculation among supporters of the refuge occupiers that Finicum had been unjustly shot during the operation, or that federal authorities had planned to kill leaders of the occupation all along.
Video of the shooting, however, appears to show Finicum reaching multiple times into his side before being shot.
A cattle rancher from Arizona, Finicum had become an active supporter of the Bundy family in Nevada, who also led a tense standoff against the federal government on their family ranch.
Finicum traveled to Oregon with the Bundy family in January 2016 and was one of the leaders of the group that took over the wildlife refuge near Burns, Oregon, to protest federal control of public lands.
The armed standoff attracted local ranchers sympathetic to the cause, as well as anti-government militia members.
In several interviews, Finicum had expressed his willingness to die for his stance on federal control of western lands and at times stood guard with a rifle at the entrance of the refuge.
His death has made him a central figure in the fight over control of western lands, as well as in anti-government and militia circles that adopted the symbol Finicum used on his cattle as a symbol of resistance against the federal government.
Astarita is scheduled to appear in court on Aug. 29, The Oregonian reported.
LINK: How The Shooting Of A Cowboy Created A Martyr For An Anti-Government Movement
LINK: FBI Releases Video Showing Police Shoot Oregon Standoff Spokesman
LINK: buzzfeed.com
Source: https://www.buzzfeed.com/usnews.xml