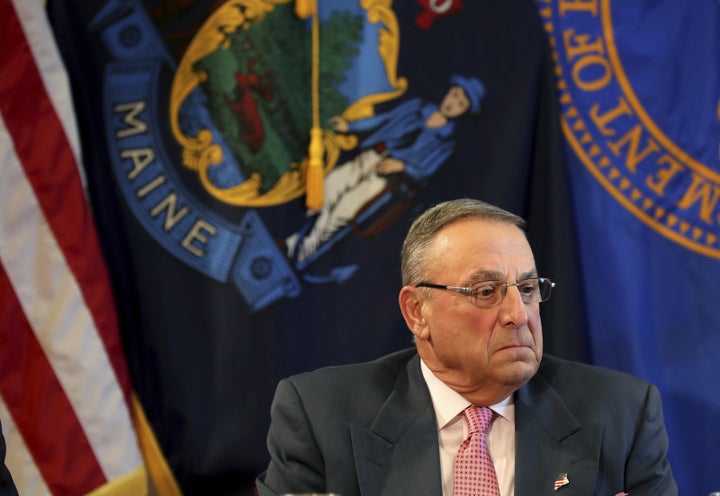 Robert F. Bukaty / AP
Maine Gov. Paul LePage lashed out at the media on Thursday for being "stupid" and said he makes things up to tell reporters — just hours before they apparently caught him in a lie.
LePage spoke to radio station WGAN, where he gives a weekly interview. After speaking about the state's recent government shutdown, he grew angry over local news reports that he had been planning on taking a vacation amid budget negotiations.
[soundcloud url="http://api.soundcloud.com/tracks/331869406″ params="color=ff5500&auto_play=false&hide_related=false&visual=false&show_artwork=true" width="100%" height="166″ iframe="true" /]
On Monday, state lawmakers told multiple Maine news outlets that the governor was planning a 10-day vacation.
"He could not have been more clear that he was leaving tomorrow morning for about 10 days," state Sen. Roger Katz, a Republican, told the Press Herald. "There was no nuance and no ambiguity about that."
However, a spokesman for the governor denied that account as "fake news."
Then on Thursday, LePage said the news reports were just another example of the media being out to get him.
"It all started by saying, 'My pen is on vacation. It has nothing to sign,'" LePage told WGAN. "That was how this started. And the press just ran. And they're so vile and inaccurate. I just love to sit in my office and make up ways so they'll write these stupid stories."
But just hours after LePage called the media stupid for believing he was going on vacation, the Bangor Daily News released a voicemail. In it, LePage can be heard saying he plans to be out of town for about 10 days.
The communications director for the Maine Senate Republican office confirmed the authenticity of the recording in an email to BuzzFeed News, saying it was provided to Bangor Daily News in response to a public records request.
LePage's office did not immediately respond to requests for comment.
In the WGAN interview, LePage also proudly described how he ignores reporters to make them angry.
"They are just so stupid, it's awful," he said. "I tell you, the sooner the print press goes away, the better society will be."
Source: https://www.buzzfeed.com/usnews.xml