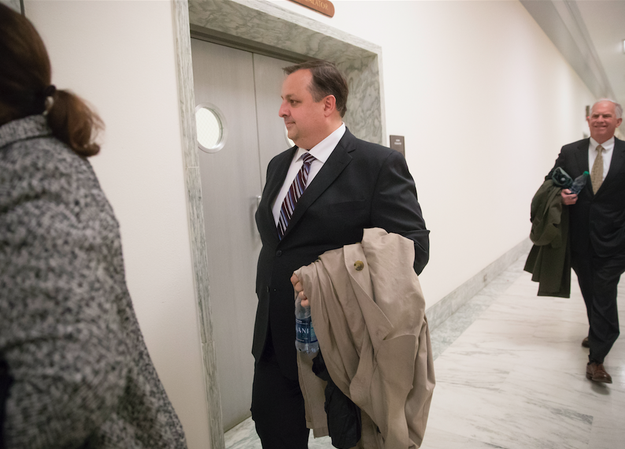 J. Scott Applewhite / AP
The Director for the US Office of Government Ethics (OGE) has resigned in a signed letter to President Donald Trump.
"The great privilege and honor of my career has been to lead the OGE's staff and community of ethics officials in the federal executive branch," Walter Shaub Jr., who has served in OGE under three presidents in various capacities, wrote in a letter Thursday. "They are committed to protecting the principle that public service is a public trust, requiring employees to place loyalty to the constitution, the laws, and ethical principle above private gain."
Shaub, an attorney, will leave his position almost six months before his term as director is scheduled to end.
In the past, Shaub's office had clashed with the then incoming White House administration. In late November, shortly after the presidential elections, the OGE's Twitter account began tweeting about incoming President's potential conflicts of interest.
".@realDonaldTrump OGE is delighted that you've decided to divest your businesses. Right decision!," read one tweet.
".@realDonaldTrump Brovo! Only way to resolve these conflicts of interest is to divest . Good call!," read another, in a style that appeared to mock Trump's tweeting style.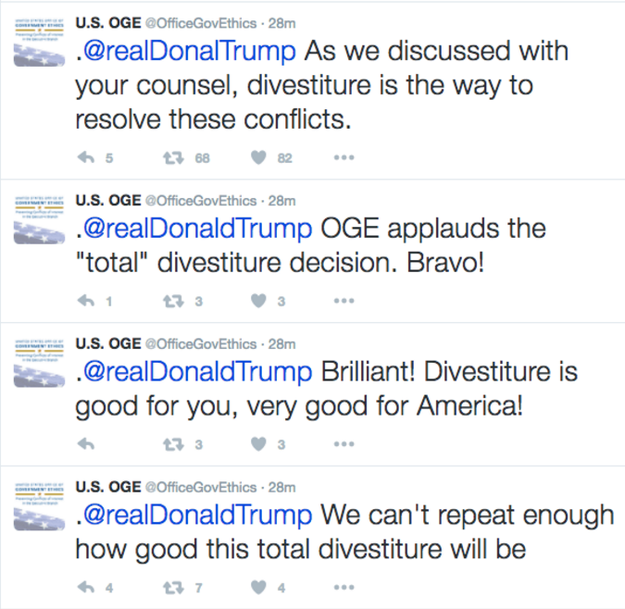 Twitter / Via Twitter: @OfficeGovEthics
Shaub will join the Campaign Legal Center, a nonpartisan watchdog and government ethics group, as a Senior Director, the organization said in a press release.
In the CLC's press release, Shaub was quoted as saying, "In working with the current administration, it has become clear to me that we need improvements to the existing ethics program."
"I look forward to working toward that aim at Campaign Legal Center, as well as working on ethics reforms at all levels of government," Shaub said in the press release.
Shelley K. Finlayson, the OGE's Chief of Staff, is expected to take over at the OGE in the interim, the Washington Post reported.
Source: https://www.buzzfeed.com/usnews.xml