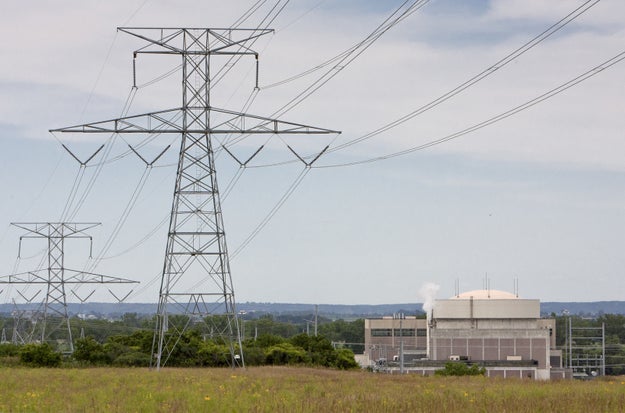 Nati Harnik / AP
Hackers believed to be working for a foreign government have recently penetrated the computer networks of power plants across the US, including a nuclear facility in Kansas, according to reports published Thursday.
Security specialists have been responding to attacks at various nuclear power and energy facilities since May, according to an urgent joint report issued June 28 by the Department of Homeland Security and the FBI and obtained by the New York Times.
In a statement to BuzzFeed News, the two agencies said they "are aware of a potential cyber intrusion affecting entities in the energy sector, but there is no indication of a threat to public safety, as any potential impact appears to be limited to administrative and business networks."
At least a dozen power plants were affected by the attacks, including the Wolf Creek nuclear facility in Kansas, the reports said. The hackers behind the effort are believed to be working for a foreign government, the chief suspect being Russia, sources told Bloomberg.
A DHS spokesperson would not comment on where the attacks came from and how any facilities were compromised.
Wolf Creek said that while it cannot publicly comment on security issues, its operational controls had not been affected and that the plant is operating safely.
"There has been absolutely no operational impact to Wolf Creek," Jenny Hageman, a spokeswoman for the nuclear plant, said in a statement to BuzzFeed News. "The reason that is true is because the operational computer systems are completely separate from the corporate network."
Security officials warned that hackers appeared to be mapping out computer networks and searching for vulnerabilities to eventually disrupt the country's electrical grid and power supply, Bloomberg reported.
The attacks mostly targeted individuals connected to the companies manning the facilities, such as "industrial control engineers who have direct access to systems that, if damaged, could lead to an explosion, fire or a spill of dangerous material," according to the Times.
People familiar with the investigation told the Times the hackers' techniques mimicked those of the Russian hacking group "Energetic Bear," which is believed to have been attacking the energy sector since at least 2012.
The allegations came as President Donald Trump prepares to meet with Russian President Vladimir Putin on Friday, though it is still unclear whether Trump will address US intelligence agencies' conclusion that Russian hackers attempted to influence the presidential election.
LINK: Homeland Security Official Confirms Russian Hackers Targeted Election Systems In 21 States
Source: https://www.buzzfeed.com/usnews.xml