"I'm on you now. You are fucking with me now"
This is Marc Kasowitz, President Trump's lawyer.
Win Mcnamee / Getty Images
With investigations underway into Russian interference in the election, Kasowitz has taken over fielding questions about any connections between Russia and Trump.
[youtube https://www.youtube.com/watch?v=El-NqF-YMMc&w=560&h=349]
In daily White House press briefings, a common answer to reporters' questions is, "I'm going to have to refer you to outside counsel." That outside counsel is Kasowitz.
On Wednesday, the investigative site ProPublica reported that Kasowitz would have trouble getting security clearance because of his history of alcohol abuse.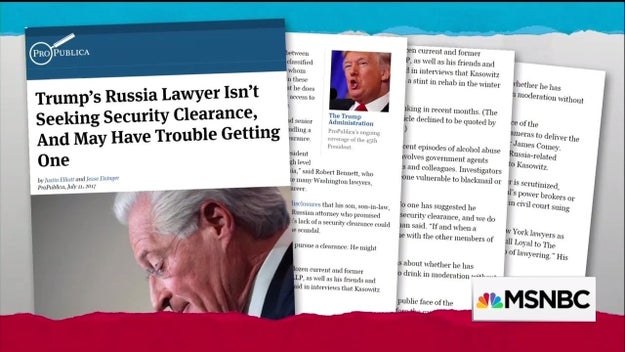 Kasowitz hasn't sought security clearance, but experts told ProPublica it may become necessary given the intelligence issues related to the Russia investigation.
The story details what ProPublica said was the alcohol-fueled, tough-guy culture of Kasowitz's law firm, as well as his reported intermittent struggles with alcohol abuse. The story raised questions about the attorney's effectiveness in defending Trump, and its findings were shared by Rachel Maddow Wednesday night on MSNBC.
MSNBC
---
Source: https://www.buzzfeed.com/usnews.xml