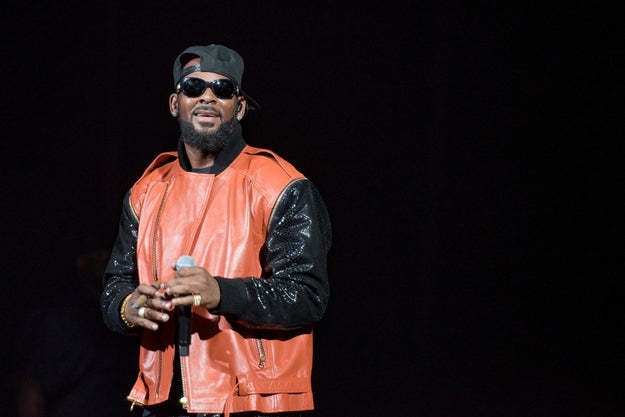 Mike Pont / Getty Images
Legendary R&B singer R. Kelly on Monday denied allegations from parents that he is holding several women against their will in a "cult" — a response to a BuzzFeed News investigation published earlier in the day.
"Mr. Robert Kelly is both alarmed and disturbed by the recent revelations attributed to him," Kelly's lawyer, Linda Mensch, told BuzzFeed News. "Mr. Kelly unequivocally denies such accusations and will work diligently and forcibly to pursue his accusers and clear his name." TMZ first reported the denial.
BuzzFeed News reported that Kelly is accused of holding several women — including ones he told he'd take under his wing to advance their music careers — in his Duluth, Georgia, "guest house" or at his Chicago recording studio.
Three people who used to work in Kelly's inner circle said, as BuzzFeed News wrote, that he "controls every aspect of their lives: dictating what they eat, how they dress, when they bathe, when they sleep, and how they engage in sexual encounters that he records."
Also on Monday, the parents of one of the women held a news conference — outside one of Kelly's rental properties near Atlanta that they say housed their child at one point — saying their daughter is "being held against her will" by the singer.
The woman's father, Tim Savage, said he had not seen his daughter since December 2016 and that she did not attend her grandfather's funeral last month. "My wife has not talked to her," Savage said. "Maybe once, and that's been probably four months ago, around that area."
BuzzFeed News exclusively reported Monday that the parents told police that the R&B singer is holding their daughter "against her will" in what they called a "cult." Three former members of Kelly's inner circle also voiced similar stories.
Asante McGee, a former member of Kelly's inner circle who talked with BuzzFeed News, also spoke at the parents' news conference, saying that all physical movements required permission from Kelly — including taking a shower.
"He's a monster," said the sister of the woman.
[youtube https://www.youtube.com/watch?v=q6RELLuCA2c&w=560&h=349]
The woman's mother, Jonjelyn Savage, said her daughter had been "severely brainwashed."
As BuzzFeed News reported, the Johns Creek Police Department, which covers the area of Kelly's Georgia home in question, conducted a well-being check at two locations at the behest of the woman's parents. Police tried once and didn't return after they said no one was home.
"The person whose parents asked us to check on is 21 years old, has no signs of mental illness, she was not a missing person, and she had contacts with parents recently, prior to when they contacted us," Major John Clifton told BuzzFeed News later Monday.
"We have procedures in place if we believe a person is in danger. This was not the case here," Clifton said. He added, "The parents didn't call us back."
In response to Kelly's denial, BuzzFeed News released this statement: "We stand fully behind the story, which was based on nine months of interviews and old-fashioned investigative reporting."
LINK: R. Kelly Is Holding Women Against Their Will In A "Cult," Parents Told Police
Source: https://www.buzzfeed.com/usnews.xml