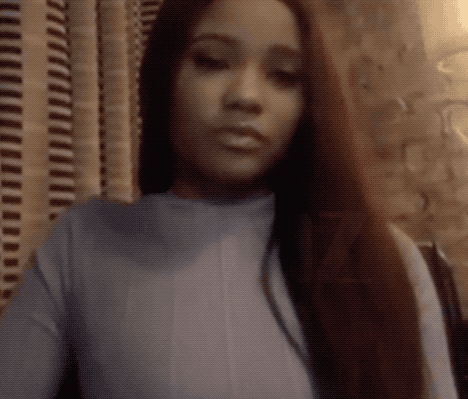 TMZ / Via tmz.com
One of the women whose parents told police she is being held captive by legendary R&B singer R. Kelly refused to reveal where she is — and refused to answer if she can leave that location — when asked in a videotaped interview that aired on TMZ.
"Are you currently in Georgia, or where are you?" Joycelyn Savage is asked.
"I actuall-, I am, not, no I'm not, I wouldn't want to speak on that," Savage replied.
"Are you with other roommates, are you free to go where you are?" Savage is asked — as what appears to be a shadow of a figure or hand projected onto Savage begins to gesture.
"No, I wouldn't speak on that as well," Savage, 21, responded.
(The above gif shows the shadow during that question at normal speed. The below gif at a slowed speed.)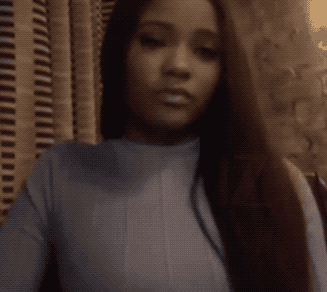 TMZ / Via tmz.com
The video was published on Tuesday, following an exclusive BuzzFeed News investigation reporting police have been told that Kelly is allegedly holding several women — including ones he told he'd take under his wing to advance their music careers — in his Duluth, Georgia, "guest house" or at his Chicago recording studio.
Three people who used to be a part of Kelly's inner circle said, as BuzzFeed News wrote, that he "controls every aspect of their lives: dictating what they eat, how they dress, when they bathe, when they sleep, and how they engage in sexual encounters that he records."
Joycelyn Savage's father, Tim, said he still believes his daughter is being held against will and is being controlled.
"If you look at the video, and I looked at it over 10 times, the video has someone in the back telling her what to say and what not to say," Tim told BuzzFeed News.
Tim, who confirmed that his daughter was on the TMZ video, said her inability to answer questions about where she was and if she was free to go was further evidence of her captivity.
"She couldn't answer that. You know why?" Tim said, "Because she's not free to go. She's not free to call her mother or father. She's being controlled by a woman or man."
Tim said that after watching the video he tried to call a cellphone he claims Kelly gave her daughter after confiscating her personal phone.
"I've tried to reach out to her. When I saw the video I called and no one picked up the phone," Tim said.
"I just mainly want to say, I'm in a happy place with my life. And I'm not being brainwashed or anything like that," Joycelyn said in the TMZ video, later adding that she's never felt like a hostage.
Yesterday Joycelyn Savage's mother, Jonjelyn Savage, said her daughter had been "severely brainwashed," at a news conference outside one of Kelly's rental properties near Atlanta that they say housed their child at one point.
[youtube https://www.youtube.com/watch?v=q6RELLuCA2c&w=560&h=349]
Asante McGee, a former member of Kelly's inner circle who talked with BuzzFeed News, also spoke at the parents' news conference, saying that all physical movements required permission from Kelly — including taking a shower.
"He's a monster," said Joycelyn's sister.
Kelly, in a statement through his lawyer, said he "unequivocally denies" that he is holding women. Police have done wellbeing checks on Joycelyn Savage, who told authorities she was fine..
LINK: R. Kelly "Unequivocally Denies" Allegations That He Is Holding Women Against Their Will
LINK: R. Kelly Is Holding Women Against Their Will In A "Cult," Parents Told Police
Source: https://www.buzzfeed.com/usnews.xml