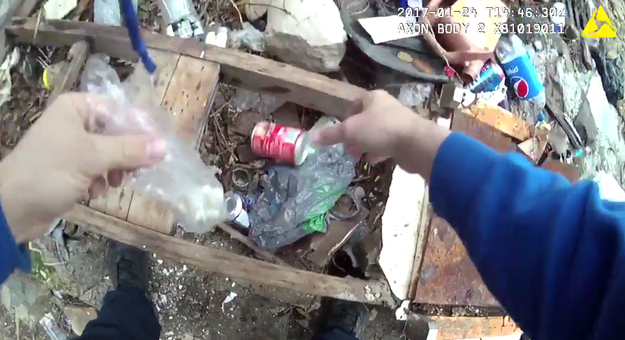 Shocking footage from a Baltimore police officer's body-worn camera appears to show the cop planting drugs at the scene of a crime that officials have confirmed was used to implicate a defendant scheduled to face trial on the charges this week.
In the video, the police officer appears to place a bag of pills under some garbage in an alley. He then walks back out to the street, at which point he activates the body camera. But because the cameras are programmed to capture the 30 seconds prior to activation, the officer's actions before returning from the alley were recorded.
"I'm going to check here," he can be heard saying, before he walks back down the alley. After furrowing around in the trash for a couple seconds, the officer locates the bag inside a soup can and exclaims "yo!" as he holds it up to his two fellow officers.
Fox Baltimore reports that the defendant who was arrested in connection with the false drug bust was scheduled to face trial this week, but the charges were dropped after the man's public defender reviewed the video and alerted the prosecutor.
According to Fox Baltimore, the prosecutor told the defendant's lawyer that they were "appalled" by the footage and dropped the case the next day.
But the Baltimore Sun is also reporting that the Baltimore State's Attorney's Office that was prosecuting the case offered the defendant a plea deal after reviewing the footage.
BuzzFeed News has reached out to the Baltimore Police Department and Baltimore State's Attorney's office.
Source: https://www.buzzfeed.com/usnews.xml