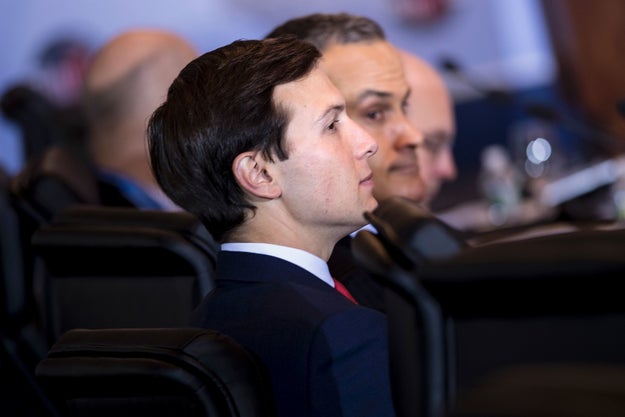 Brendan Smialowski / AFP / Getty Images
Jared Kushner has issued a statement ahead of his congressional testimony on Monday, in which he details four contacts with Russians over the course of the campaign and transition, and denies any collusion.
Multiple news outlets received a copy of the statement early on Monday morning.
At the conclusion of the 11-page document, Kushner said: "I did not collude, nor know of anyone else in the campaign who colluded, with any foreign government. I had no improper contacts. I have not relied on Russian funds to finance my business activities in the private sector. I have tried to be fully transparent with regard to the filing of my SF-86 form, above and beyond what is required."
In the statement, Kushner insists he did not read the infamous email chain about a meeting with a Russian lawyer revealed by Donald Trump Jr. at the time, and regarded the meeting as "a waste of time."
"That email was on top of a long back and forth that I did not read at the time. As I did with most emails when I was working remotely, I quickly reviewed on my iPhone the relevant message that the meeting would occur at 4:00 PM at his office. Documents confirm my memory that this was calendared as "Meeting: Don Jr.| Jared Kushner." No one else was mentioned," Kushner said.
"I arrived at the meeting a little late. When I got there, the person who has since been identified as a Russian attorney was talking about the issue of a ban on U.S. adoptions of Russian children. I had no idea why that topic was being raised and quickly determined that my time was not well-spent at this meeting."
"Reviewing emails recently confirmed my memory that the meeting was a waste of our time and that, in looking for a polite way to leave and get back to my work, I actually emailed an assistant from the meeting after I had been there for ten or so minutes and wrote 'Can u pls call me on my cell? Need excuse to get out of meeting.' I had not met the attorney before the meeting nor spoken with her since."
Kushner's statement also gives his account of a meeting on December 1 with Russian ambassador Sergei Kislyak and Trump's now-former National Security Adviser Michael Flynn.
"I did not suggest a 'secret back channel,'" he said. "I did not suggest an on-going secret form of communication for then or for when the administration took office. I did not raise the possibility of using the embassy or any other Russian facility for any purpose other than this one possible conversation in the transition period. We did not discuss sanctions."

This is a developing story. Check back for updates and follow BuzzFeed News on Twitter.
Source: https://www.buzzfeed.com/usnews.xml