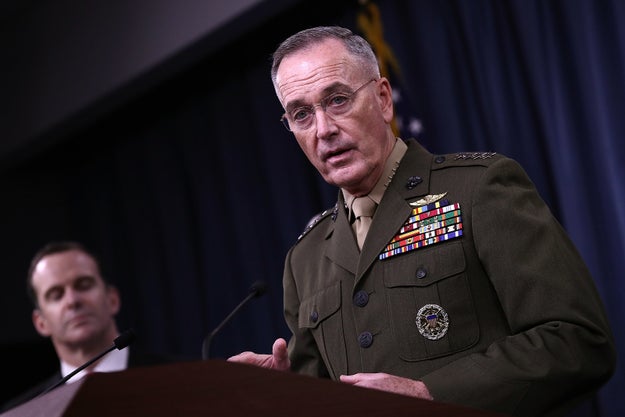 Win Mcnamee / Getty Images
The Chairman of the Joint Chiefs of Staff, Joseph Dunford, said in a latter Thursday that transgender service members will continue to serve in the military until further notice, adding, "we will continue to treat all of our personnel with respect."
"There will be no modifications to the current policy until the President's direction has been received by the Secretary of Defense and the Secretary has issued implementation guidance," Dunford's letter, obtained by BuzzFeed News, says.
The Department of Defense referred BuzzFeed News to the White House for further comment. The White House did not immediately respond to questions about the letters. On Wednesday, the press secretary referred questions to the Department of Defense.
The head of personnel for the US Navy also wrote in a latter that transgender service members in the Navy will continue to serve "until further guidance from the President is received."
"OSD (and by extension Navy) will not take any personnel actions or change any policy until further guidance from the President is received," wrote Navy Chief of Personnel Robert Burke on Wednesday evening in an email obtained by BuzzFeed News.
The letter comes after the President announced on Twitter yesterday that transgender people will be banned from serving in the military entirely. Military leaders are working to decipher how and when that ban, which was criticized by both Republicans and Democrats yesterday, will be implemented.
Healthcare for transgender service members will also not be impacted for the moment, according to Burke letter.
"If a member is receiving medical care, that does not cease. Currently-serving TG Service members will continue to receive all necessary medical care," the letter says.
"Treating service members with dignity and respect is something we expect from our Sailors at all times," Burke continues, adding that the Office of the Secretary of Defense is "working to quickly discern the President's intent."
Nancy Youssef contributed to this report.
LINK: Trump Says Transgender People Cannot "Serve In Any Capacity" In The Military
Source: https://www.buzzfeed.com/usnews.xml