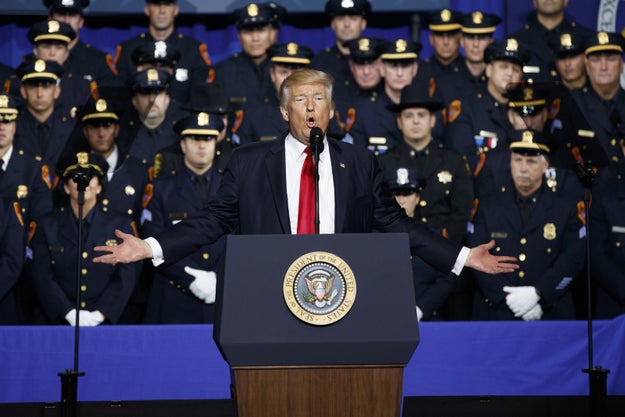 Evan Vucci / AP
President Trump on Friday encouraged authorities to rough up undocumented immigrants suspected of committing crimes as part of speech to highlight his administration's efforts to crack down on gang members and illegal immigration.
"When you see these towns and when you see these thugs being thrown into the back of a paddy wagon, you just see them thrown in, rough, I said, 'Please don't be too nice,'" Trump to cheers and applause. "Like, when you guys put somebody in the car and you're protecting their head, you know, the way you put their hand over. Like, don't hit their head and they've just killed somebody. Don't hit their head. I said, 'You can take the hand away, OK?'"
Trump made the comments while speaking in Long Island to law enforcement officials. He and his administration have been pointing to a streak of violence at the hands of MS-13 gang members as a justification for cracking down on illegal immigration — even though federal data show the link is tenuous, at best.
Trump began to focus on the transnational gang after a series of killings earlier this year in Suffolk County, Long Island. In September, two girls were found beaten to death, and in April, the badly beaten bodies of four men were also found in a wooded area, with MS-13 members being the suspected culprits.
"They have transformed peaceful parks and beautiful, quiet neighborhoods into blood-stained killing fields," Trump said. "They're animals. We cannot tolerate, as a society, the spilling of innocent, young, wonderful, vibrant people, sons and daughters, even husbands and wives."
He also made a connection between unaccompanied minors from Central America and MS-13, saying the increase in the kids coming to the US lead to an increase in the gang's ranks.
"New arrivals came in, and they were all made recruits of each other. And they fought with each other. And then they fought outside of each other, and it got worse and worse," Trump said. "In the three years before I took office, more than 150,000 unaccompanied alien minors arrived at the border and were released all throughout our country into United States communities."
However, an analysis by the Washington Office on Latin America found that MS-13's membership makes up less than 1% of all criminally active gang members in the US and Puerto Rico. The organization also said that Attorney General Jeff Sessions' claim that MS-13 gang membership has increased to 10,000 members is the same estimate the FBI has been using since 2006.
Trump also blamed the spread of MS-13 in part to so-called sanctuary cities and "pathetic mayors" who won't allow local police to work with federal immigration officials.
"It is the policy of this administration to dismantle, decimate, and eradicate MS-13," Trump said. "We will find you, we will arrest you, we will jail you, and we will deport you."
LINK: Trump Keeps Trying To Link MS-13 Gang Violence To Immigrants. The Data Show Otherwise.
Source: https://www.buzzfeed.com/usnews.xml