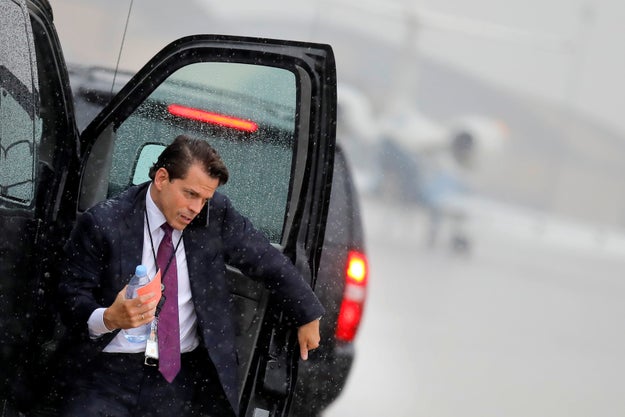 Carlos Barria / Reuters
White House Chief of Staff John Kelly ousted Communications Director Anthony Scaramucci on Monday — the same day Kelly was sworn in as and 10 days after Scaramucci started his job, BuzzFeed News confirmed.
"Anthony Scaramucci will be leaving his role as White House Communications Director. Mr. Scaramucci felt it was best to give Chief of Staff John Kelly a clean slate and the ability to build his own team. We wish him all the best," White House Press Secretary Sarah Huckabee Sanders said in a statement on Monday afternoon.
The New York Times first reported Scaramucci's departure.
Scaramucci's ouster is largely seen as a power move by Kelly, who is widely expected to try to regain control of a White House that is rife with so much infighting that the administration is having trouble executing its policy priorities.
Scaramucci made clear when he began his job that he reported directly to the president. Both Sean Spicer and Reince Priebus were ousted from their positions when Scaramucci took his job.
"This is a good sign for the West Wing. Kelly appears to be more empowered, which benefits the president at the end of the day (and the country)," a Priebus ally told BuzzFeed News.
After being appointed ten days ago, Scaramucci told reporters that he was willing to "fire everybody" in the White House communications office to stop leaks to reporters from administration staffers.
"If they don't stop leaking I'm going to put them out on Pennsylvania Avenue," Scaramucci told reporters on Tuesday outside the White House.
Then on Wednesday, he called New Yorker reporter Ryan Lizza and ranted about Chief of Staff Reince Priebus (who was ousted and replaced by Kelly last Friday), Trump advisor Steve Bannon, and "the leakers."
"What I want to do is I want to fucking kill all the leakers and I want to get the president's agenda on track so we can succeed for the American people," Scaramucci told Lizza.
This is a developing story. Check back for updates and follow BuzzFeed News on Twitter.
Source: https://www.buzzfeed.com/usnews.xml