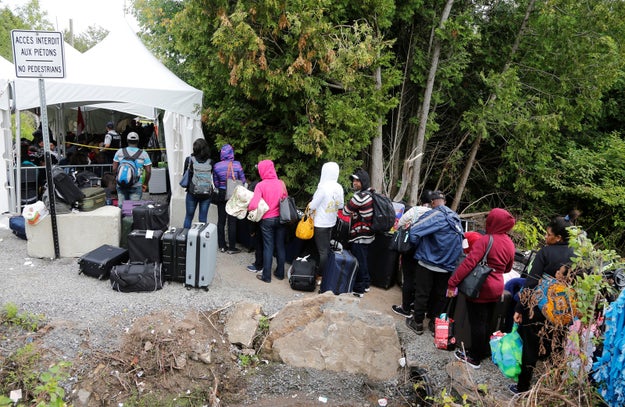 A line of asylum seekers who identified themselves as from Haiti wait to enter into Canada from Roxham Road in Champlain, New York.
Christinne Muschi / Reuters
Grappling with an influx of asylum seekers fleeing possible deportation in the US, Canada is now building a temporary camp just north of the Vermont border to house hundreds of refugees.
Canadian soldiers on Wednesday began setting up tents equipped with lighting and heating in Saint-Bernard-de-Lacolle, a municipality in Quebec, to accommodate up to 500 people, many of them Haitian asylum seekers in US who fear losing their deportation protections under the Trump administration.
"The Canadian Armed Forces is aware of the difficult situation that is requiring significant resources of Canada Border Services Agency, the Royal Canadian Mounted Police, and other partners in the area," said Evan Koronewski, a spokesman for Canada's Department of National Defence.
Last week, Quebec's immigration minister, Kathleen Weil, told reporters that 150 people were seeking asylum each day, up from 50 a day in the first half of July, prompting the head of the union representing Canada's border agents to call the influx "a national crisis."
The flow of people has showed no signs of slowing. In Montreal, where the government was forced to use the city's Olympic Stadium and a network of shelters to house the newcomers, officials told The Star the number is now between 250 and 300 people a day.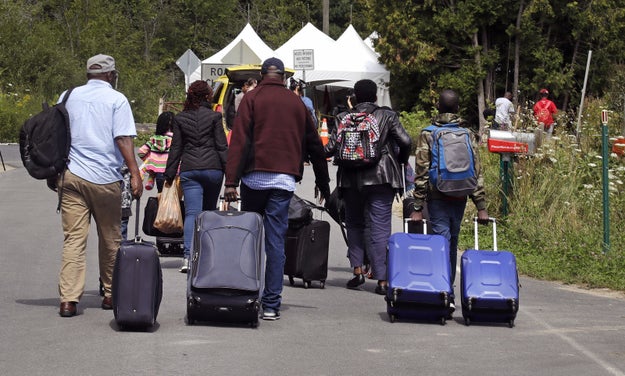 A family from Haiti approach a tent in Saint-Bernard-de-Lacolle, Quebec, stationed by Royal Canadian Mounted Police.
Charles Krupa / AP
Immigrant advocates said the rush is fueled by the uncertainty of whether the Trump administration will extend the temporary protected status (TPS) that some 58,000 Haitians received after an earthquake devastated their country in 2010.
Pierre Gerald, president of En Marche for Haiti, a Canadian advocacy group for Haitians, told BuzzFeed News this is the first time he's seen the government have to build temporary tents to deal with an influx of asylum seekers.
Jean said many of the Haitians he has spoken to either had TPS in the US or were undocumented. Those who are undocumented see Canada as a way to legalize their status, believing their chances of doing so in the US are slim under the Trump administration, which has taken an increasingly hard line against immigration.
"Haiti isn't ready to take all 58,000 people who have TPS back," Jean said. "They're all in a bad situation."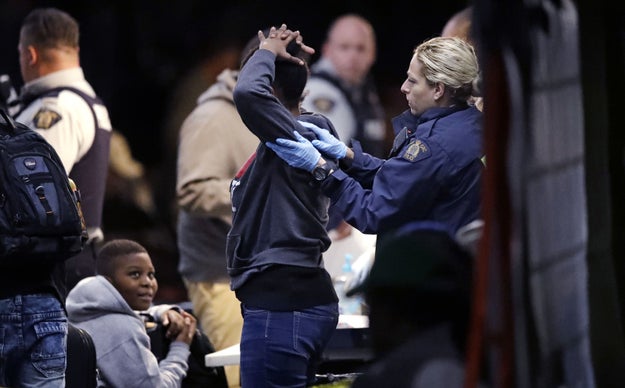 A Royal Canadian Mounted Police officer frisks a woman as she is processed before being are turned over to the Canada Border Services Agency.
Charles Krupa / AP
While the soldiers are setting up the tents, they will not be securing the border or participate in law enforcement tasks, said Koronewski of Canada's Department of National Defence.
Most of the soldiers will return to their home base after the temporary camp is set up, but some will stay to maintain the equipment.
The Royal Canadian Mounted Police (RCMP), which is responsible for Canada's border security, reported intercepting 781 people at the Quebec border, a popular spot for asylum seekers crossing into Canada, this year through June. Over the same period, there have been 6,505 asylum claims filed in Quebec, second only to Ontario, which saw 9,440.
LINK: So Many Immigrants Are Fleeing The US That Canada Is Using An Olympic Stadium To Shelter Them
Source: https://www.buzzfeed.com/usnews.xml