Experts called Trump's tweet claiming that his first order as president was to renovate and modernize the nuclear arsenal "completely false."
ICYMI, President Trump and North Korea are engaged in a war of words over their respective military might, with Trump promising to unleash "fire and fury" at Pyongyang following its threats to target the US.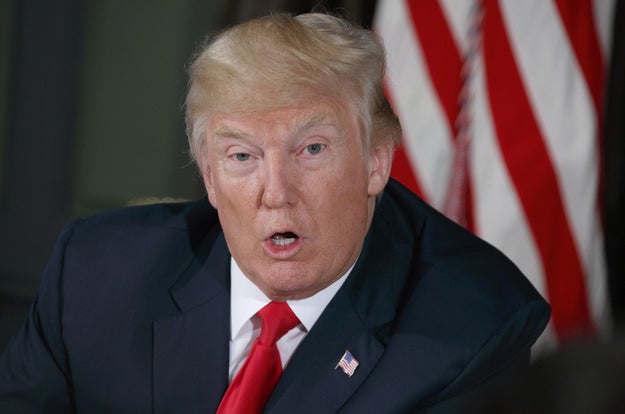 Trump's comments came after reports that intelligence agencies believe the North can put a small nuclear warhead atop a long-range missile.
North Korea responded that it would attack Guam — a US territory whose people are US citizens. Meanwhile, Secretary of State Rex Tillerson assured Americans that there is no imminent nuclear threat.
Evan Vucci / AP
Amid all this talk, Trump tweeted Wednesday morning that his "first order as president was to renovate and modernize our nuclear arsenal" which he described as "far stronger and more powerful than ever before."

"Hopefully we will never have to use this power, but there will never be a time that we are not the most powerful nation in the world," Trump said in a second tweet.
"It's completely false," Jeffrey Lewis, Director of the East Asia Nonproliferation Program at the Middlebury Institute of International Studies, told BuzzFeed News on Wednesday.
"It's up there with crowd sizes and birth certificates," Lewis said.
Lewis said that Trump had ordered a Nuclear Posture Review — a paper study — which many other presidents also ordered including Barack Obama, Bill Clinton and George W. Bush.
A Nuclear Posture Review can "review anything" from how many nuclear weapons you have to what kind they are and how they're configured, Lewis said, and is used to determine the president's future nuclear policy.
"But it is a review, and therefore not in itself a decision to make any actual changes to the American nuclear arsenal," Andrea Berger, Senior Research Associate at Middlebury Institute of International Studies, told BuzzFeed News.
Both Lewis and Berger pointed out that the study — which began in April — was still underway and was not meant to be complete until around September.
"What he has done is set the Department of Defense some homework that hasn't been turned in yet," Berger said.
She added: "Trump's tweet gives the misleading impression that he has already ordered concrete changes to the US nuclear arsenal. He may in future, once the Department of Defense's nuclear review is complete, but that prospect is still months away."
When asked about Trump's nuclear arsenal tweets, White House spokesperson Lindsay Walters told reporters to refer to an executive order the president signed early on in his term where he asked for the Nuclear Posture Review.
However, Trump asked for the Nuclear Posture Review in a Jan. 27 Presidential Memorandum, and not in an executive order, as Walters incorrectly stated.
The two are not the same, as explained here.
In fact, Trump's "first order as president" was an executive order seeking to repeal Obamacare, and had nothing to do with strengthening nuclear arsenal.
Walters did not provide additional information on upgrades to the arsenal itself, per the White House pool report.
---
Source: https://www.buzzfeed.com/usnews.xml