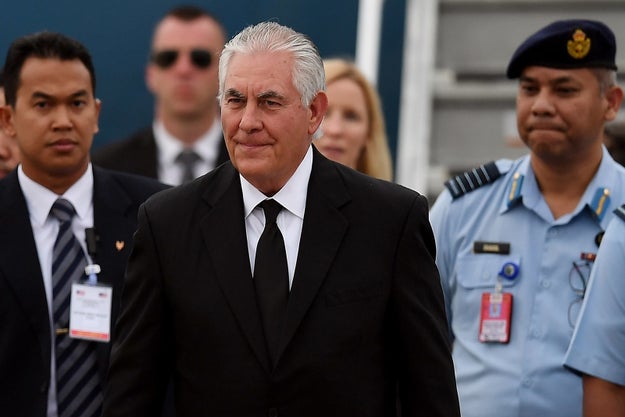 Manan Vatsyayana / AFP / Getty Images
Secretary of State Rex Tillerson said he thinks "Americans should sleep well at night, and have no concerns about this particular rhetoric over the last few days," during a surprise visit to Guam Wednesday morning. He added that he does not believe there is "any imminent threat" from North Korea.
Tillerson's comments contrast President Trump's rhetoric. On Tuesday, Trump promised "fire and fury like the world has never seen," should North Korea continue to issue threats against the US. On Wednesday morning, Trump was retweeting Fox News reports that American fighter jets ensuring they could "fight tonight" if necessary — and making dubious claims he renovated the US's nuclear arsenal in since he tok office months.
And Seb Gorka, one of Trump's top national security advisers, made comments backing Trump on Wednesday morning. "He is saying don't test America and don't test Donald J. Trump," Gorka said on Fox and Friends, discussing Trump's tweets. "The message is very clear: don't test this White House, Pyongyang."
"The global community has expressed its view that North Korea really needs to stand down this [nuclear] program… In response to that, North Korea's rhetoric has ratcheted up," Tillerson said. "I think what the president was doing is sending a strong message to North Korea in language that Kim Jong Un will understand. I think the president wanted to be clear to the North Korean regime that the US has an unconditional ability to defend itself, will defend itself and its allies."
Asked whether he had considered rerouting his trip to Guam, given its status as a potential target, the secretary said that the "North Korean missile capability can point in many directions" and that he did not consider changing course. Tillerson was earlier visiting Malaysia.
"I do not believe that there is any imminent threat, in my own view," he said.
President Trump tweeted twice Wednesday morning, stating that the US nuclear arsenal is "far stronger and more powerful than ever before," and that "hopefully we will never have to use this power."
The Governor of Guam also issued a statement Wednesday, in which he said he was working with the Us and Homeland Security to ensure the island's safety and that "there is no change in threat level resulting from North Korea events."
"I know we woke up to media reports of North Korea's talk of revenge on the United States and this so-called new-found technology that allows them to target Guam," Governor Eddie Baza Calvo said. "I want to reassure the people of Guam that currently there is no threat to our island or the Marianas."
Calvo said he also wanted to emphasize that Guam is a United States territory. "Guam is American soil and we have 200,000 Americans in Guam and the Marianas," he said. "We are not just a military installation."
Tillerson said the United States is hopeful that its pressure campaign, with the engagement of China and Russia, two of North Korea's closest neighbors, can begin to persuade the regime they need to take a different diplomatic path, and that nothing that he's seen or that he knows of "would indicate that the situation has dramatically changed in the last 24 hours."
He said the US has a "very active, ongoing diplomatic effort" and that the country's "telephone lines remain open certainly to China and Russia, as well as our allies." He also said he believes that the fact that the rhetoric out of Pyongyang is becoming "louder and more threatening" indicates "the pressure is starting to show."
"Whether we've got them backed into a corner or not is difficult to say. But diplomatically, you never like to have someone in a corner without a way for them to get out," he said.
Gorka also said that this was a moment when the country has to "come together as a nation and support the executive."
"Whether you voted for him or not, whether they're Democrat or whether they are a Republican, these are trying times," Gorka said. "During the Cuban missile crisis we stood behind JFK, and this is analogous to the Cuban missile crisis. We need to come together."
LINK: Trump Promises "Fire And Fury" For North Korea
Source: https://www.buzzfeed.com/usnews.xml