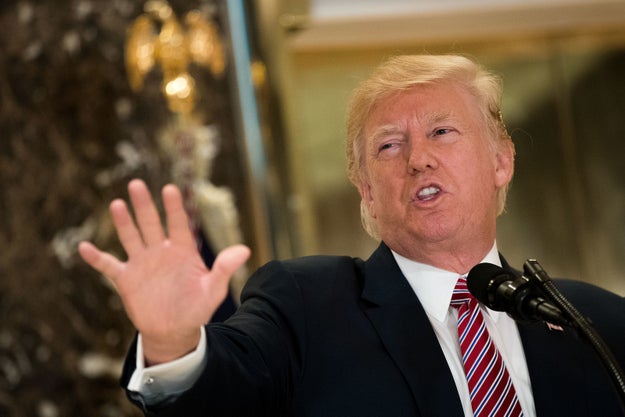 Drew Angerer / Getty Images
President Donald Trump on Tuesday defended the torch-wielding white supremacists who marched in Charlottesville, Virginia, Friday night, saying "there were people protesting very quietly the taking down of the statute of Robert E. Lee."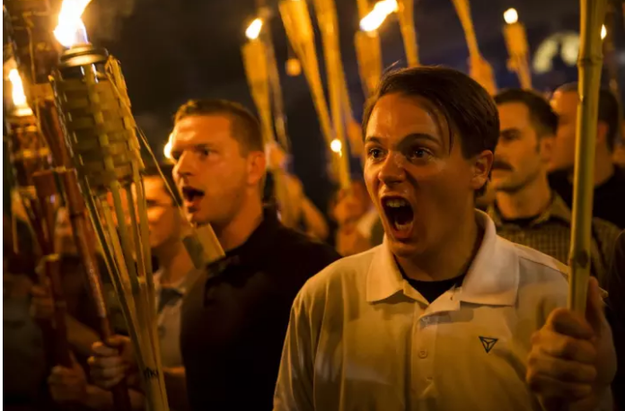 Anadolu Agency / Getty Images
During a press conference from Trump Tower in New York, the president went on a wide-ranging defense of protests that led to violence and three deaths in Virginia over the weekend.
"So I only tell you this," he said. "There are two sides to a story. I thought what took place was horrible moment for our country, a horrible moment. But there are two sides to the country."
Several hundred white supremacists descended on the University of Virginia's campus Friday for a torchlit rally ahead of Saturday's "Unite The Right" demonstration.
Videos from Friday showed marchers holding tiki torches while chanting "end immigration," "one people, one nation," and "blood and soil" — a Nazi-linked ideology based on ethnic descent and territory.
The demonstration came amid the proposed removal of the statute of Confederate General Robert E. Lee in Emancipation Park, previously known as Lee Park.
Several injuries were reported Friday night and at least one protester was arrested and charged with assault and disorderly conduct.
When asked about the protests during Tuesday's press conference, Trump wrongfully blamed much of the violence on the "alt-left," and defended Confederate-era leaders.
He also defended Saturday's white supremacist protesters "that were there to innocently protest and very legally protest," saying "the other group" — the anti-racist protesters — did not have a permit to demonstrate.
"Not all of those people were Neo-Nazis, believe me," Trump said of the protesters. "Not all of those people were white supremacists by any stretch. Those people were also there because they wanted to protest the taking down of a statue, Robert E. Lee … This week, it is Robert E. Lee. I noticed that Stonewall Jackson is coming down. Is it George Washington next? You have to ask yourself, where does it stop?"
LINK: Trump Just Went On A Wide-Ranging Defense Of The Racists In Charlottesville And Confederate Monuments
Source: https://www.buzzfeed.com/usnews.xml