So presidential.
It's been a weird 12 hours in Trump Twitter (yes, even more so than normal).
Remember, this is how the president most often communicates to the public and often announces new policies and appointments.
Twitter
Late Monday night, President Trump retweeted Jack Posobiec, a notorious alt-right personality, known for organizing the DeploraBall inauguration party. The tweet (it remains on the president's timeline) discusses shooting deaths in Chicago over the weekend, noting "no national media outrage? Why is that?":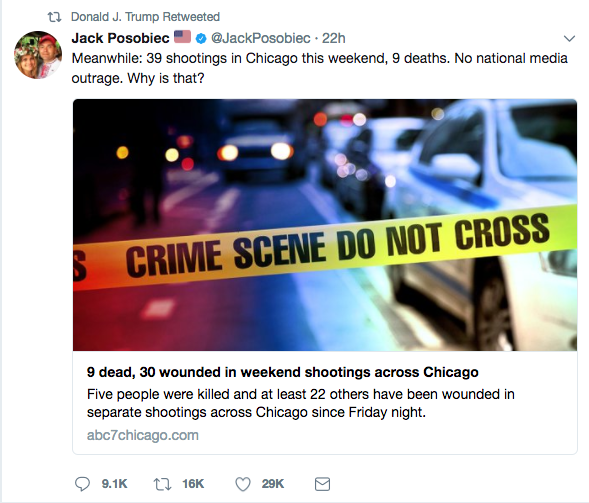 Obviously, that's in contrast to the white supremacist rally over the weekend, which ended 20-year-old James Alex Fields driving his car into a crowd of anti-racist counter protesters, killing Heather Heyer, 32, and injuring 19 others. The media covered that many citizens criticized Trump for taking two days to strongly condemn the violent actions by white supremacists, KKK and neo-Nazis.
Twitter
But Posobiec is also known for creating fake scandals and stirring up conspiracy theories. In January, BuzzFeed News published texts from Posobiec revealing that he had turned up at an anti-Trump rally in DC just after the election and started chanting "assassinate Trump", in the hope it would make Trump detractors appear dangerous.

BuzzFeed News
That same day, Posobiec was responsible for a sign at the anti-Trump rally that read "Rape Melania", a reference to the First Lady, reported BuzzFeed News.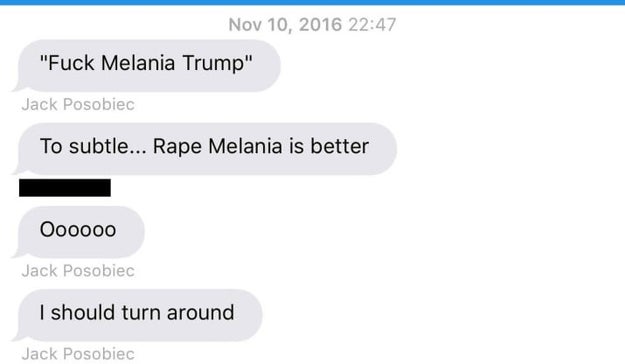 Again, this was to make anti-Trump protesters look like violent anarchists, who would rape the president's wife.
BuzzFeed News
---
Source: https://www.buzzfeed.com/usnews.xml