Tyler Magill's colleagues said the stroke came after he was hit with a tiki torch wielded by white supremacists on Friday night. But his brother-in-law, who is at the hospital, says there's no evidence to support that.
Tyler Magill, a University of Virginia Library employee, suffered a stroke three days after he was caught in violent clashes with tiki torch–wielding white supremacists who descended on a group of students protesting them in Charlottesville on Friday.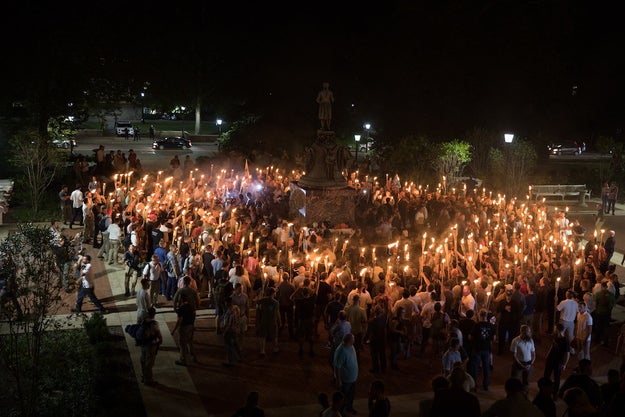 The Washington Post / Getty Images
Magill, 46, was hospitalized at the University of Virginia Medical Center on Tuesday after complaining about loss of vision, Lisa Moore, a friend who started a GoFundMe page for his expenses, told BuzzFeed News.
"Tyler Magill, vanquisher of Charlottesville nazis, suffered a stroke on August 15," Moore wrote on the fundraising page.
Relating information from Magill's wife, Sena Magill, Moore told BuzzFeed News that the carotid artery in Magill's neck was dissected, resulting in blood clots that caused the stroke.
She said that doctors believe blunt force trauma on his neck may be one of the reasons for the damage to his carotid artery.
"Tyler Magill is in fair condition at the UVA Medical Center," a UVA spokesperson told BuzzFeed News in a statement.
@UVaLibrary / Twitter / Via Twitter: @UVaLibrary
The impromptu march by hundreds of torch-wielding white nationalists led to violent exchanges with a group of counterprotesters on the campus. One protester was arrested and several injuries were reported, UVA officials said.
The protest came amid an ongoing dispute over the proposed removal of the statue of Confederate General Robert E. Lee in Emancipation Park.
---
Source: https://www.buzzfeed.com/usnews.xml