Dozens of people lined up outside the Durham County Sheriff's Office Thursday to turn themselves in for tearing down a statue of a Confederate soldier this week, in solidarity with Takiyah Thompson, a member of the Workers World Party and student at NC Central University who was arrested Tuesday for her part in the act and faces felony charges.
"For folks who came willing to put hands in cuffs today, to take a risk, either symbolic or factual, for taking responsibility for the removal of that statue, this whole community says thank you," said Serena Sebring, an organizer with advocacy group Southerners on New Ground (SONG). "You represent the very best of us and we are so grateful."
Sebring said that she and the dozens of people lined up were prepared to take responsibility for the statue's removal, despite not being present or directly involved on Monday.
The statue of a Confederate soldier was in front of the courthouse in Durham and had been erected in 1924. Protesters gathered Monday, tore the statue down, and then kicked and spat on the fallen monument in a demonstration against the violence in Charlottesville that left one woman dead and 19 others injured.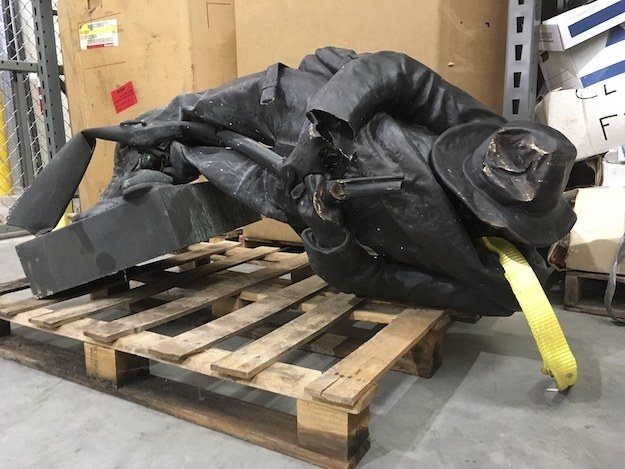 Allen Breed / AP
Bree Newsome, the Black Lives Matter activist who tore down the Confederate flag outside the South Carolina statehouse in June 2015, tweeted in support of the action.
Dozens continued to line the halls of the courthouse throughout the day.
Thompson was charged with two felonies: participation in a riot with property damage in excess of $1,500 (Class H) and inciting others to riot where there is property damage in excess of $1,500 (Class F), according to reports.
She also was charged with two misdemeanors: disorderly conduct and damage to real property.
The Durham County Sheriff's Office released a statement Thursday saying the official supports the right to peaceable assembly.
"As the custodian of the courthouse, the safety and security of visitors and employees will remain a top priority for the Sheriff's Office," Sheriff Mike Andrews said. "We have taken steps to ensure the daily operation of the courthouse can proceed without disruption. I expect participants in the planned rally to obtain a permit and engage in a peaceful demonstration. My Agency will continue to maintain the safety and security of the building."
Source: https://www.buzzfeed.com/usnews.xml