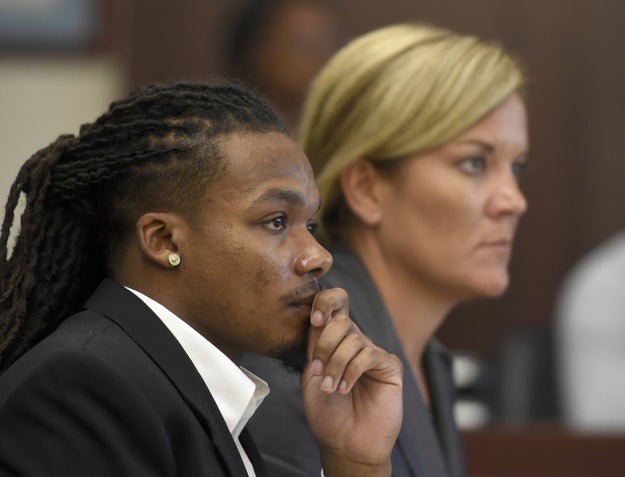 Lacy Atkins / AP
A former Vanderbilt football player was sentenced Friday to 15 years in prison following his June conviction in the rape of an unconscious female student at the Nashville university.
Brandon Banks was the third former athlete from Vanderbilt to be convicted in the 2013 gang rape and faced 15 to 25 years behind bars. He was found guilty on one count each of aggravated rape and aggravated sexual battery for using a water bottle to penetrate an unconscious woman four years ago.
Last year, Brandon Vandenburg was sentenced to 17 years in prison for encouraging his teammates to sexually assault the woman, while Corey Batey, another former football player, is serving a 15-year sentence for his role in the rape.
Police discovered the crime had occurred when they were called to the dorm to investigate a report of vandalism. Video surveillance from the building viewed by police also showed four men carrying the unconscious woman.
During the trial Banks testified that Vandenburg — who was casually dating the victim at the time — told the men, "We're going to fuck this bitch," handed out condoms, and gave Banks the water bottle, instructing him "to put the f-ing bottle in her."
Jaborian "Tip" McKenzie — a fourth teammates charged in the case — testified that Banks assaulted the woman with the bottle.
Banks' attorney argued that Vandenburg "was pressuring" his client to participate in the assault.
"Mr. Vandenburg was pressuring and goading Mr. Banks," defense attorney Katie Hagan said during opening statements, arguing that he was acting under duress at the time.
McKenzie is the fourth and last former athlete to be charged in the case. He has plead not guilty and is awaiting trial.
LINK: Ex-Vanderbilt Football Player Brandon Banks Found Guilty Of Raping Unconscious Student
LINK: A Former Vanderbilt Football Player Says He Was Bullied Into Participating In A Campus Rape
Source: https://www.buzzfeed.com/usnews.xml