"We often talk about the inherent dangers of police work, but tonight those dangers were all too real for these officers."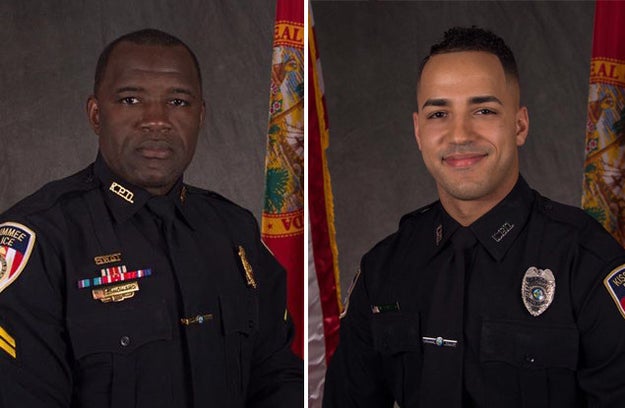 Kissimmee police officers Sam Howard, left, and Matthew Baxter.
Kissimmee Police
Six police officers were shot, one of them fatally, in three separate incidents in Florida and Pennsylvania on Friday night.
While responding to a call complaining of suspicious activity, two Kissimmee, Florida police officers were shot in what Police Chief Jeffrey O'Dell described as an "ambush."
One of the officers, Matthew Baxter, 27, later died of his injuries. The other, Sgt. Sam Howard, 36, was gravely wounded and "the prognosis does not look good," O'Dell said in a press conference.
O'Dell said the police officers were conducting a "consensual encounter to get out and check" at the time of the shooting.
"Nobody was being placed in handcuffs," O'Dell said. "If all things checked out, the officers would have been on their way."
Everett Miller, 45, was arrested and charged with first-degree murder.
Florida Gov. Rick Scott mourned the loss of Baxter and said he was praying for Howard's recovery in a statement on Saturday.
"Let me be very clear – last night's violence against our law enforcement community is reprehensible and has no place in our state," Scott said. "Florida has zero tolerance for violence and we will not accept hatred for one second."
President Donald Trump tweeted "thoughts and prayers" to the Kissimmee Police.
---
Source: https://www.buzzfeed.com/usnews.xml