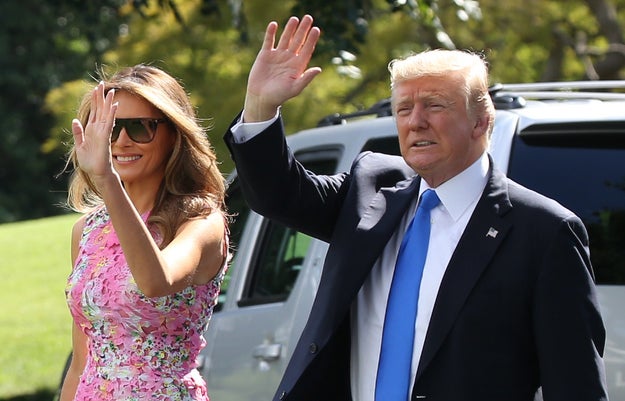 TASOS KATOPODIS/AFP / Getty Images
President Donald Trump and the first lady will not participate in this year's Kennedy Center Honors activities this year to avoid politically inflaming the events, the administration announced Saturday, after two honorees had said they would boycott any White House events in protest against Trump.
Choreographer Carmen de Lavallade, writer Norman Lear, rapper and actor LL Cool J, and singers Lionel Ritchie and Gloria Estefan are set to be honored at the annual event in December.
But De Lavallade and Lear had already said they would skip the traditional White House reception in protest against the administration.
"In light of the socially divisive and morally caustic narrative that our current leadership is choosing to engage in, and in keeping with the principles that I and so many others have fought for, I will be declining the invitation to attend the reception at the White House," De Lavallade told the Washington Post.
"This is a presidency that has chosen to neglect totally the arts and humanities — deliberately defund them — and that doesn't rest pleasantly with me," Lear told the New York Times.
Richie had said he had not yet decided if he would attend, while Estefan had vowed to go in the hopes of trying to persuade Trump on the value immigrants bring to US culture, the Post reported.
But rather than let a controversial boycott continue to build, press secretary Sarah Huckabee Sanders announced early Saturday that the president and First Lady Melania Trump would not participate in any Kennedy Center Honors activities "to allow the honorees to celebrate without any political distraction":
Each year, the Kennedy Center honors the careers and achievements of artists who have helped shape cultural life in the United States with a weekend that includes celebrations and events.
The award recipients are recognized for their lifetime contributions in the arts and the positive change they have made all over the world.
The President and First Lady have decided not to participate in this year's activities to allow the honorees to celebrate without any political distraction.
First Lady Melania Trump, along with her husband President Donald J. Trump, extend their sincerest congratulations and well wishes to all of this year's award recipients for their many accomplishments.
The statement did not specify if the White House reception would be scrapped altogether.
This is a developing news story. Check back for updates or follow BuzzFeed News on Twitter.
Source: https://www.buzzfeed.com/usnews.xml