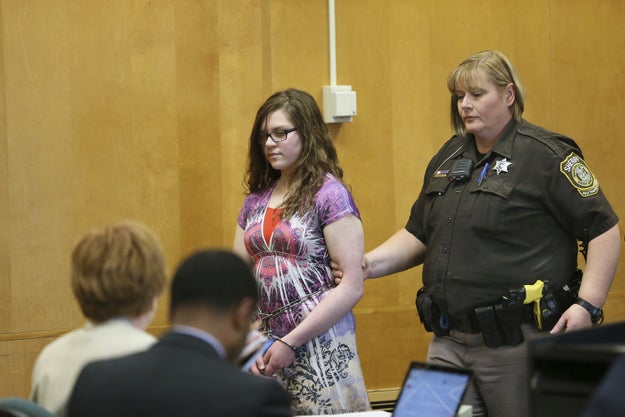 Michael Sears / AP
A 15-year-old girl accused of stabbing her friend as a way to impress the fictional internet character Slender Man pleaded guilty on Monday to a lesser charge.
Anissa Weier, 15, had initially faced a charge of attempted first-degree intentional homicide in the 2014 attack in Waukesha, Wisconsin, but instead pleaded guilty to attempted second-degree homicide.
Weier and her friend, Morgan Geyser, are accused of stabbing their classmate, Peyton Leutner, 19 times to appease Slender Man, a kind of internet boogeyman who is often photoshopped into the background of existing images. All three girls were 12 at the time of the attack.
[youtube https://www.youtube.com/watch?v=iSB_BAZNrJM&w=560&h=349]
Prosecutors argued that the girls tricked Leutner into entering the woods with them, where they then stabbed her. Leutner, who survived, was able to crawl out of the woods to a path where she was found by a bicyclist.
"I didn't want to hurt Peyton," Weier said in court on Monday. "I wanted to prove Slender Man existed, but I thought there were other ways."
She later said Geyser told her killing somebody was the easiest way to prove Slender Man existed.
Once in the woods, Weier told the court how Geyser asked whether she should stab Leutner.
"I wanted it to be over with, so I said 'Go berserk, do what you have to do,'" Weier said, adding that Geyser then jumped on top of Leutner, stabbing her repeatedly.
She added that she was worried that if she did not go through with the plan Geyser and Slender Man would kill her.
"I believed if I didn't go through with the plan, Slender Man would come and attack and kill myself, my friends, and my family, those that I care about most," Weier said in court.
Weier had previously pleaded not guilty by reason of mental disease or defect. Her trial, set to begin next month, will now only focus on whether mental illness makes her legally responsible for the crime.
If the jury does not accept Weier's insanity defense, prosecutors said they will recommend she spend 10 years behind bars, plus 10 years of extended supervision.
If she is found not guilty by reason of mental illness, she will spend at least three years in a mental institution.
Assistant District Attorney Ted Szczupakiewicz said on Monday that Leutner's family supports the plea arrangement.
Source: https://www.buzzfeed.com/usnews.xml