The city covered two Confederate statues in black tarp to symbolize the mourning for Heather Heyer, who was killed while protesting a violent white nationalist rally.
Charlottesville shrouded the statue of Confederate General Robert E. Lee in black on Wednesday to symbolize the city's mourning for Heather Heyer, who was killed while protesting a white supremacist rally earlier this month.
[youtube https://www.youtube.com/watch?v=8gNujshB5OI&w=560&h=349]
The violence in Charlottesville was sparked by the Unite the Right rally — a gathering of white supremacists, neo-Nazis, and the KKK — that was organized to protest the proposed removal of Lee's statue in Emancipation Park.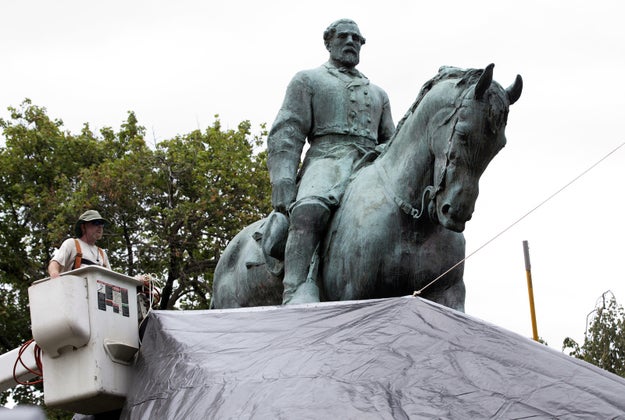 Steve Helber / AP
Heyer was killed after a white supremacist plowed into a crowd of anti-racist protesters.
President Trump's subsequent defense of white supremacists at the rally and his repeated praise of Confederate statues has amplified the national debate over removing these monuments.
At least 26 Confederate monuments have been removed across the US after the violence in Charlottesville.
The Charlottesville City Council voted Tuesday to shroud the statues of Lee and Confederate Gen. Thomas "Stonewall" Jackson after an hours-long meeting where incensed residents screamed at officials, leading to three arrests for disorderly conduct and obstruction.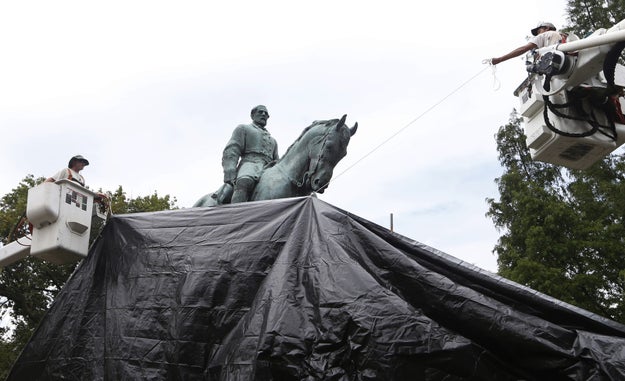 Steve Helber / AP
---
Source: https://www.buzzfeed.com/usnews.xml