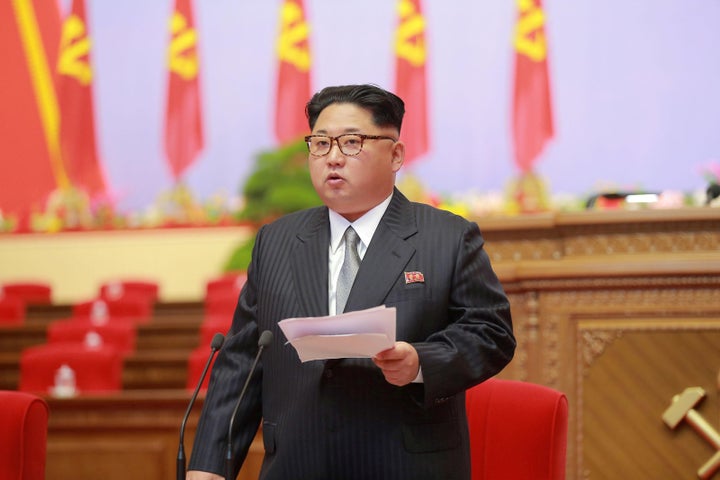 North Korean leader Kim Jong-Un.
Kcna Kcna / Reuters
North Korea has reportedly launched what appeared to be at least one projectile into the East Sea early Saturday, multiple news agencies reported.
The Yonhap News Agency in South Korea cited the country's Joint Chief's of Staff, who described it as an "unidentified projectile." Kyodo News in Japan also reported that the Japanese government was aware of the possible ballistic missile launch.
The object, which is suspected of being a ballistic missile, appeared to have been launched from North Korea's province of Gangwon, the Yonhap News Agency reported.
The Associated Press, also citing Seoul's Joint Chief's of staff, reported several projectiles flew about 155 miles into the sea.
South Korea and US military officials were analyzing the launch, the AP reported.
The launch comes less than three weeks after North Korea and the US traded a series of threats during a period of heightened tensions between the two nations, including President Trump saying North Korea would be "met with fire and fury like the world has never seen" if it continued to threaten the US.
The heightened tensions came after the Washington Post reported on a defense assessment that concluded North Korea had developed the ability to attach a nuclear warhead on its missiles.
In July, North Korea successfully tested intercontinental ballistic missiles that analysts believe could reach the US mainland.
A spokesman for North Korea's People's Army also appeared to threaten the US territory of Guam, stating the country was creating a plan to retaliate against the US there.
LINK: Tillerson Says North Korea's First Intercontinental Ballistic Missile Is A "New Escalation"
Source: https://www.buzzfeed.com/usnews.xml