Denver police detectives spent Thursday evening interviewing cheerleaders at a local high school as part of an investigation into footage of a coach forcing screaming girls into painful splits as it emerged the same coach was fired from another Colorado school for the same conduct.
Four of the East High School cheerleaders also met with a medical examiner on Thursday evening to assess injuries sustained during their training sessions with coach Ozell Williams, according to a parent.
Footage emerged Wednesday of one of the girls, 13-year-old Ally Wakefield, screaming in agony as Williams and her fellow cheerleaders held her in the splits position during a June 6 training session.
"No, no, no, no, no! I can't!" Wakefield cries in the video, which was first published by Denver NBC affiliate KUSA. "Please stop. Please stop. Please stop."
BuzzFeed News has also viewed videos of Williams performing the same forced split on seven other girls at the same training session, as the cheerleaders scream, cry, and swear in pain.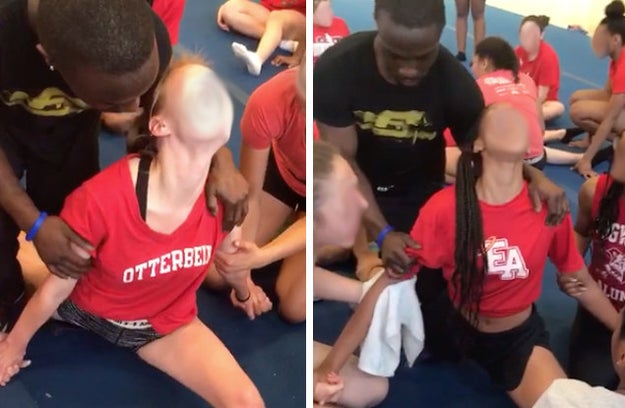 Supplied
Wakefield and her mother, Kirsten, told BuzzFeed News on Friday she sustained a torn ligament, a ripped muscle, and a possible pulled hamstring because of the incident.
"It just hurt," Ally said. "I'm not really sure how to describe it. It was the pain you feel when you're convinced your muscles are tearing."
Kirsten Wakefield said her daughter struggled to walk after the forced split and has been seeing a physical therapist.
"She couldn't walk for a couple of days. She was limping and had to borrow my husband's old crutches," Kirsten said.
Six members of the 24-girl squad have now left the cheerleading team, she added.
Coach Williams, assistant coach Mariah Cladis, Principal Andy Mendelsberg, Assistant Principal Lisa Porter, and Denver Public Schools deputy general counsel Michael Hickman have been placed on leave as district officials investigate the incident.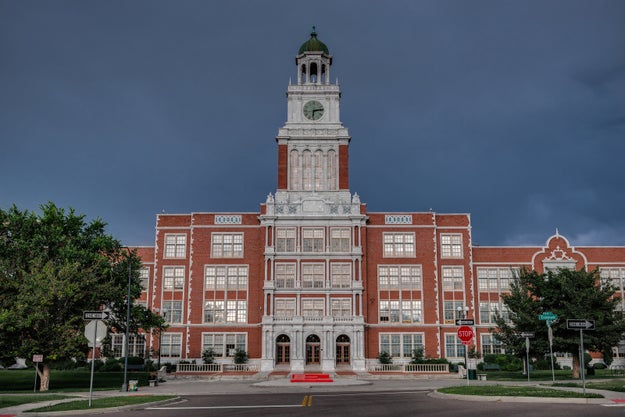 East High School.
Ken Lane/Flickr / Via Flickr: kenlane
Before he joined East High, Williams was fired from a contract position at Boulder High School in 2016 after he was seen using the forced split technique on students there, an official told BuzzFeed News.
"His services were discontinued when an assistant coach observed him using the technique showed in the [East High] video with students at Boulder High School," said Randy Barber, Boulder High's director of communications.
Boulder High Principal James Hill wrote to parents on Thursday, saying his school was also working with law enforcement and urged any parents "with information" to contact officials.
"Please know that we believe this behavior is not acceptable," Hill wrote.
Ally Wakefield, who attends Denver School of the Arts but joined East High's cheer team as her school lacks a physical education program, said the splits exercise occurred at an intense, week-long summer training camp.
"[Coach Williams] told us we're gonna get our splits and it was a technique that a lot of people use and not to be scared," Ally said.
Observing her fellow cheerleaders being held down in the splits position, Ally pulled out her phone to record footage.
"I started crying before I went up there because I got really scared," she said. "It was just kind of hard to watch the other teammates go through it and know that I would have to."
Ally said Williams asked if she was filming and told her not to show the videos to others or post them on social media. (Williams did not respond to repeated requests for comment, but told the Denver Post the viral footage had been taken out of context: "You can definitely say that what was in the video could be seen in a different light. I would love to tell my story, but I can't say anything else at this time.")
On the way home from practice, Ally initially played down the incident, but Kirsten said she was shocked when she saw the footage of her daughter.
"My daughter to proceeded to show me videos while I was driving," Kirsten said. "I just started crying. I actually almost hit a car and ran off the road. I had to pull over and calm down."
"Why would I not be crying? I just saw videos of my daughter and her teammates being tortured and screaming bloody murder like they were being attacked," she added.
Authorities are now looking into the cheer team's training sessions, with police spokesman John White telling BuzzFeed News on Friday, "We have a lot more investigating to do with this incident."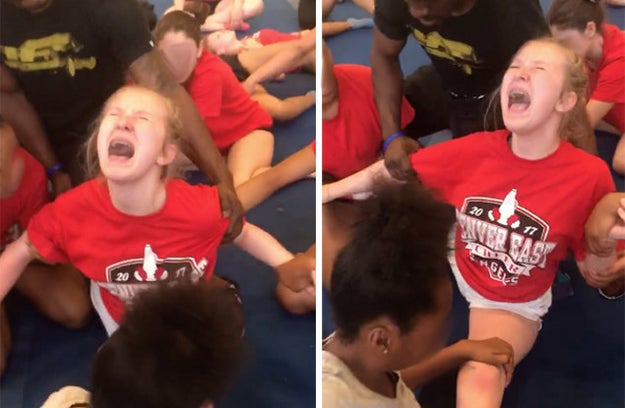 Ally Wakefield.
Supplied
Kirsten and two other mothers of East High cheerleaders told BuzzFeed News they made repeated written and verbal complaints about Coach Williams to the school's athletics director and principal both before and after the splits footage was filmed.
Mom Jenney Rockland told BuzzFeed News she observed Williams try to correct one girl's "bad attitude" by having her stand in a circle and ask her teammates to say things about her they didn't like.
"The girl was sobbing in the middle of this circle," Rockland said. It was extremely disturbing."
Parents said they believe school officials responded slowly to their concerns due to summer vacation, and said officials were keen to let Williams, who was new as a coach, find his footing.
"The principal told me that they would assign a coach or trainer to be placed to oversee practices for Coach Ozell to ensure the safety of our kids," said Cheri Nickolay, whose 14-year-old daughter Anna was on the team. "That was never done. Never was there any oversight put in place."
"They left him alone with out teenage daughters after seeing these videos," she added, "and that's what needs to be answered at this point."
Anna Nickolay quit the team in mid June, unhappy with what her mother described as an abusive environment.
Jenney Rockland's 14-year-old daughter, Shaylen Washut, has also left the team. "As soon as I saw the videos, I wouldn't let her go back to practice," Rockland said.
"I love East High…but what happened this summer was an utter failure and it definitely highlighted a major problem in the athletic department," Rockland said.
Reid Neureiter/Flickr / Via Flickr: 21085902@N08
Alex Renteria, media relations manager for Denver Public Schools, said she could not comment on the ongoing investigation into East High officials. She said she expected an update on the probe next week.
In a statement, DPS Superintendent Tom Boasberg said they were cooperating with police and had spoken with the parents of every cheerleader. DPS also advised athletic directors across the district the use of forced splits was banned.
"We have sent notification to our athletic directors emphasizing that DPS does not allow the use of 'forced splits' or any other activity that puts a student's physical or mental health at risk, or in which a student is forced to perform an exercise beyond the point at which they express their desire to stop," Boasberg said. "I want to reiterate that this applies not just to athletics, but throughout our school communities."
The elected members of the Denver Board of Education have also condemned the footage, saying they were "deeply disturbed."
"Challenging our students should never compromise their health and safety, or their personal consent," the representatives said in a statement. "DPS does not and will not tolerate athletic or school cultures or practices that place our students in danger.
The American Association of Cheerleading Coaches and Administrations also said they do not condone Williams' actions.
"Stretching should never be taken to the level of causing pain," the group's executive director, Jim Lord, said in a statement. "Of even more concern is failure to act when it is clear that a cheerleader is in extreme pain and begging to stop."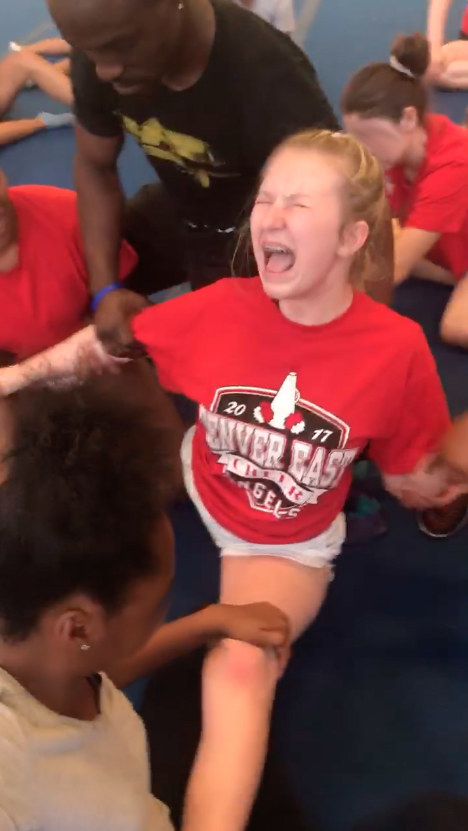 Ally Wakefield
Supplied
After initially being unwilling to give up her beloved cheerleading, Ally Wakefield left the cheer team about two weeks ago.
She said she cringes now when she watches the footage of her being forced to do the splits by her coach.
"I just see myself being abused. I see it for how it is now," she said. "Before I was led to believe it was so normal."
LINK: This Teen Cheerleader Was Forced To Do The Splits And Now Police Are Investigating
Source: https://www.buzzfeed.com/usnews.xml