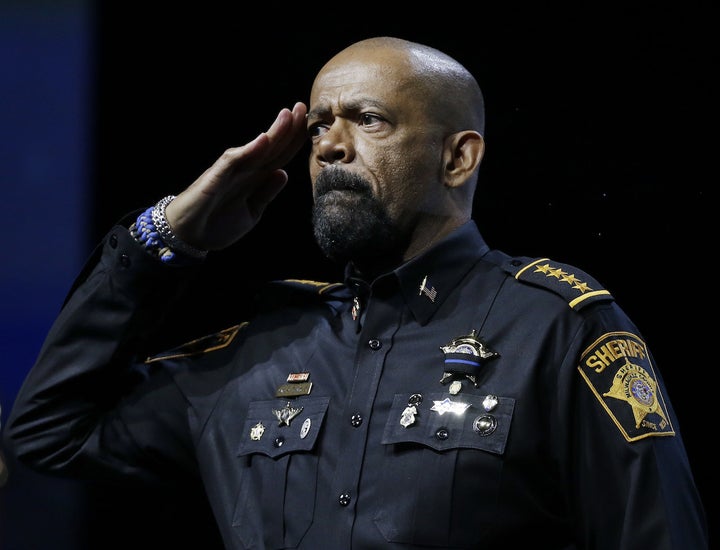 Mark Humphrey / AP
David Clarke, the controversial conservative sheriff of Milwaukee County, Wisconsin, has resigned, officials said Thursday.
Milwaukee County Clerk George L. Christenson told BuzzFeed News Clarke submitted a letter of resignation at 3:16 p.m. local time.
Clarke was an early and staunch supporter of President Donald Trump during the campaign, and was at one point thought to be considered for a cabinet position in the administration.
In May, during a radio interview, he said he had been offered a job as an assistant secretary in the Department of Homeland Security. The following month, however, he announced he would be would not be taking a job with the administration after all.
DHS officials, however, never admitted publicly that Clarke was offered a position at all.
Clarke has been a firebrand conservative and a frequent guest in conservative radio shows and Fox News shows.
He's been a continuous advocate for police officers, especially during public outcry over excessive force and deadly police shootings.
But Clarke has been fighting a series of scandals in his position as sheriff in Milwaukee County as well, including the death of a mentally ill man who was allegedly deprived of water in his cell.
A federal lawsuit was also filed against his department after a woman died in her cell while giving birth.
Clarke, however, made no mention of these issues or any other topics in his short, one-sentence resignation letter that was submitted Thursday afternoon.
"This communication is submitted as the notice of my resignation as Sheriff of Milwaukee County commencing August 31, 2017, at 11:59 p.m." the letter read.
This is a developing story. Check back for updates and follow BuzzFeed News on Twitter.
Source: https://www.buzzfeed.com/usnews.xml