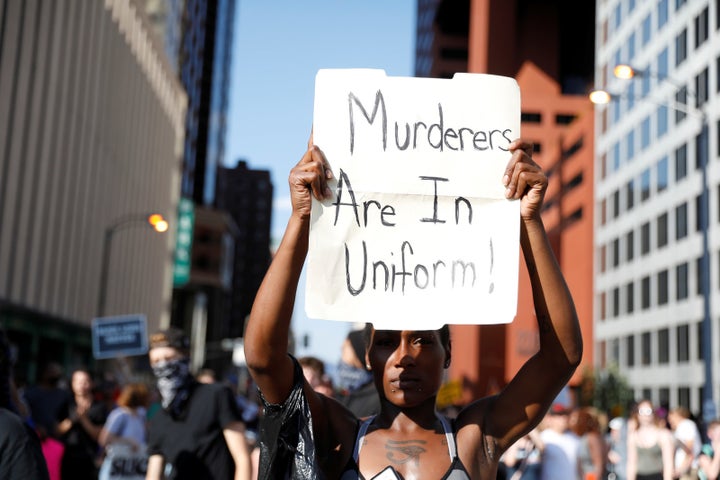 A woman marches in downtown St. Louis Friday.
Whitney Curtis / Reuters
Large protests erupted Friday in St. Louis after a former police officer was cleared in the fatal shooting of a black man, leading to multiple confrontations between demonstrators and law enforcement and more than a dozen arrests.
The protests came in response to a judge finding Jason Stockley, who is white, not guilty of murder for fatally shooting Anthony Lamar Smith, a drug suspect, in 2011. Stockley was an officer with the St. Louis Police Department at the time, and was heard saying "we're killing this motherfucker, don't you know it" while involved in a high-speed chase with Smith.
In the hours after the verdict, large groups of protesters gathered in multiple locations around St. Louis. At a news conference late Friday, acting St. Louis Police Chief Lawrence O'Toole said a total of 13 people were arrested and four officers were assaulted. The officers suffered minor injuries and did not need to be hospitalized.
"There have been some tense moments where agitators became destructive and assaulted police officers," O'Toole said, but for the "most part demonstrations have been peaceful."
Images from the scene showed a number of confrontations between demonstrators and police. In one video, shared by the local Fox TV affiliate, a line of police officers appears to knock over an elderly woman, then step over her as she lies on the ground.
When asked about the video, police spokesperson Schron Jackson told BuzzFeed News the "demonstrators were ordered to leave the area."
"The woman shown in the video refused to leave the street and area as officers were attempting to move them back," Schron said in an email. Police did not say if the woman was ultimately arrested.
Other videos, posted by protesters, showed police using pepper spray and batons while taking demonstrators into custody.
Another aerial video showed riot police charging into a crowd.
The St. Louis Police Department also posted a video showing "agitators damaging a police car."
Other images from the scene showed businesses boarded up as people marched through the streets. In videos, protesters could be heard chanting "no justice, no peace, no racist police."
Describing "tense moments" during the protests, O'Toole said police at the scene "deployed mace after an officer was struck by water bottle."
However, like O'Toole, St. Louis Mayor Lyda Krewson — who earlier said she was "appalled at what happened to Anthony Lamar Smith" — described the gatherings as overall "mostly peaceful."
"This is a serious moment for us," Krewson added.
After a lull in the early evening, large groups of protesters continued marching Friday night. Images showed large crowds moving through the streets of St. Louis, closing a highway in the area.
LINK: A Cop Was Found Not Guilty In The Fatal Shooting Of A Black Man In St. Louis
Source: https://www.buzzfeed.com/usnews.xml