Lawmakers want to pull funds from NFL teams, bar owners have stopped airing football games, fans are burning thier season tickets, local officials are going on racist rants — and so much more.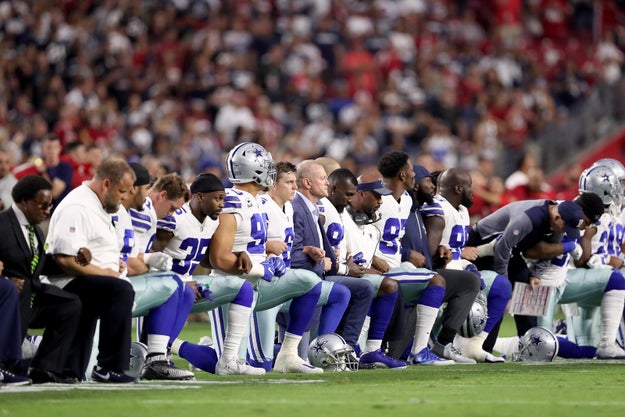 Christian Petersen / Getty Images
The partisan furor around whether NFL players should protest the national anthem before games — a fire President Trump has relentlessly fueled for five days now — has brought out fierce reactions from people across the nation.
Lawmakers are threatening to introduce bills that pull state funds from teams whose players have knelt; bar owners have vowed to not show NFL games out of disappointment; fans are looking to sell their season tickets — and players are offering to buy them; and at least one local official apologized for going on a racial screed on Facebook.
In response to it all, Trump tweeted Tuesday morning that the NFL should introduce a rule preventing players from kneeling during the national anthem.
NFL players, coaches, and owners across the league knelt, linked arms, or sat down during the national anthem before this week's games, defying ongoing criticism from Trump. Some teams responses seemed genuine, others a little more calculated.
The protests began last year when the then-quarterback for the San Francisco 49ers, Colin Kaepernick, repeatedly knelt during the anthem as a demonstration against police violence toward people of color.
Trump's comments last week that any player that did not stand for the anthem was a "son of a bitch" who should be fired, drew national debates about free speech and the right to protest. While a number of NFL players said their silent protest is a statement about racism in the country, Trump has insisted the issue is about respect for the country and the flag.
In Louisiana, state House Rep. Kenny Havard called on the local government to pull state funding, tax breaks, and other support from the New Orleans Saints, saying that "disrespecting our national anthem and flag in the name of social injustice is the highest form of hypocrisy."
"The very reason [the Saints] have the privilege and opportunity to play professional football while being paid millions is because someone in uniform died protecting their right to do so," he said in a statement. "It is a disgrace to the men and women of this nation and state who have sacrificed so much."
He went on to say that "it is time taxpayers quit subsidizing protest on big boy playgrounds."
"I believe in the right to protest but, not at a taxpayer subsidized sporting event," his statement reads. "Do it on your own time."
Tennessee House member Judd Matheny, who is also running for Congress, said he is working on a bill that would pull funding from the Tennessee Titans.
Matheny said under the proposed bill, teams will have to buy land with their own money and pay taxes like everyone else.
And in Pennsylvania, Republican state Senator Mike Regan said he will introduce a resolution condemning the protests, saying the players who took a knee are "anti-American."
"It was not a harmless exercise of First Amendment rights," Regan said in a press release Monday. "It was a deliberate, orchestrated effort to disrespect the anthem and flag of the United States of America, and it cannot go unrebuked."
---
Source: https://www.buzzfeed.com/usnews.xml