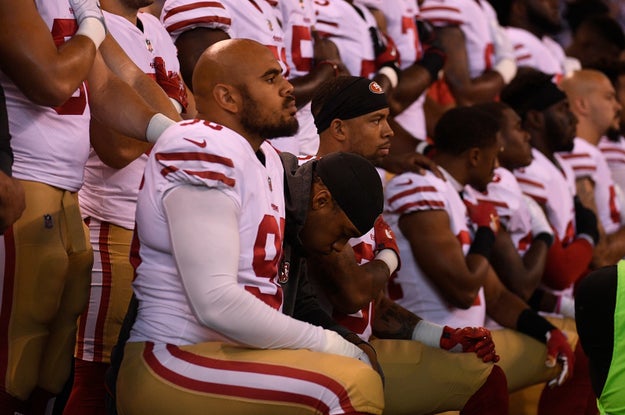 San Francisco 49ers players kneel during the National Anthem before the game against the Indianapolis Colts.
Bobby Ellis / Getty Images
NFL Commissioner Roger Goodell told team owners in letter on Tuesday that "everyone should stand for the national anthem" as the debate over football players choosing to kneel in protest shows no sign of letting up.
Goodell's comments, his first this season since the controversy erupted, also come ahead of a meeting next week in which team owners are reportedly planning to review a policy that would require all players to stand for the national anthem.
"Like many of our fans, we believe that everyone should stand for the National Anthem," Goodell wrote. "It is an important moment in our game. We want to honor our flag and our country, and our fans expect that of us."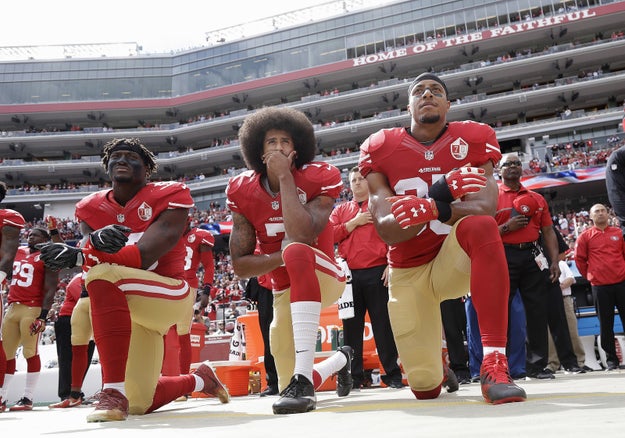 Quarterback Colin Kaepernick, center, kneels during the national anthem in 2016.
Marcio Jose Sanchez / AP
The act of taking a knee was started last season by former 49ers' quarterback Colin Kaepernick in protest of police brutality and the mistreatment of minorities. But the controversy was reignited last month when Trump called out Kaepernick at a rally in Alabama, referring to the quarterback as a "son of a bitch."
The president has also called on NFL owners to fire players who continue to protest.
That comment sparked widespread demonstrations among NFL players who also took a knee during the anthem in solidarity with Kaepernick. The issue has since become polarizing, with opinion polls showing a divided America on the appropriateness of the protest action.
"We also care deeply about our players and respect their opinions and concerns about critical social issues," Goodell added in his letter. "The controversy over the Anthem is a barrier to having honest conversations and making real progress on the underlying issues. We need to move past this controversy, and we want to do that together with our players."
Read Goodell's letter to NFL teams:
Goodell's letter comes days after Vice President Mike Pence and his wife decided to leave an Indianapolis Colts vs. San Francisco 49ers game early after some players chose to kneel during the anthem.
"I left today's Colts game because @POTUS and I will not dignify any event that disrespects our soldiers, our Flag, or our National Anthem," Pence tweeted.
Trump expressed his support for Pence's decision, tweeting: "The trip by @VP Pence was long planned. He is receiving great praise for leaving game after the players showed such disrespect for country!"
Critics, however, called it a political stunt — and an expensive one at that. CNN reported that the Pence's trip to Indianapolis for the game — which included flights on Air Force 2 from Las Vegas and then back to Los Angeles — cost taxpayers an estimated $250,000.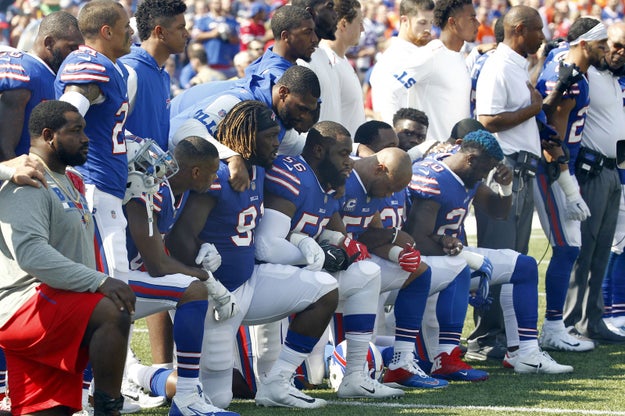 Buffalo Bills players take a knee during the playing of the national anthem prior to an NFL football game against the Denver Broncos on Sept. 24, 2017.
Jeffrey T. Barnes / AP
Goodell's letter also follows more tweets on the issue from Trump on Tuesday that suggested the US change its tax laws to punish the NFL if players continue "disrespecting" the national anthem.
"Why is the NFL getting massive tax breaks while at the same time disrespecting our Anthem, Flag and Country? Change tax law!" Trump tweeted.
On Tuesday, White House press secretary Sarah Huckabee Sanders told reporters the administration would support the NFL asking players to stand during the national anthem.
"I think we should certainly support the NFL coming out and asking players to stand, just as the president has done," Sanders said. "We support the national anthem, the flag, and the men and women who fought to defend it. And our position hasn't changed on that front. We're glad to see that it's all taking positive steps in that direction."
LINK: The White House Said Trump's NFL Feud Is "Pretty Black And White" And People Took Notice
LINK: Celebs, Politicians, Veterans, And Others Showed Solidarity With NFL Players After Trump's "Son Of A Bitch" Comment
Source: https://www.buzzfeed.com/usnews.xml