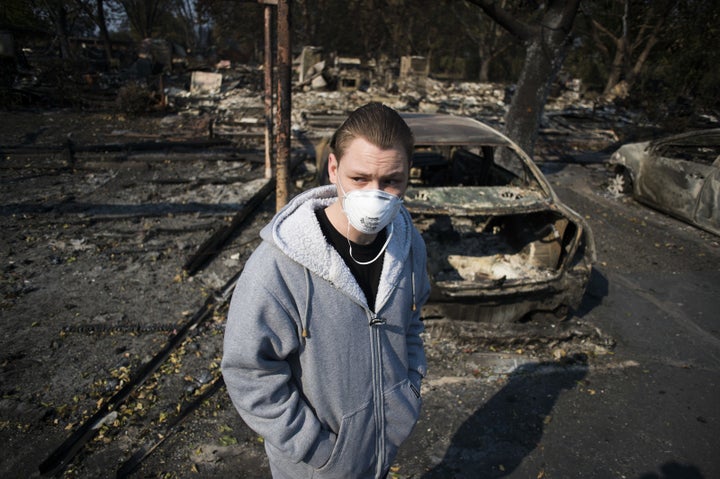 Bryan Heric surveys the damage after his home was completely destroyed by wildfire.
Brian L. Frank for BuzzFeed News
SANTA ROSA, California — At 1:57 a.m., Bryan Heric awoke to explosions and a roaring wind so intense it sounded like it was juggling the large metal dumpsters outside his apartment and throwing them into the concrete. Then he opened his front door.
"I've never seen fire like that. There was no space in it, it was like a solid object," the 28-year-old recalled as he stood knee deep in the ashy remnants of his kitchen. "It pushed through the metal fence and ignited the trees and I just grabbed my daughter and said 'We have to go.'"
His girlfriend, Amy Larkin, grabbed their identities, passports, wedding photos, and a stuffed animal she had from birth and started sprinting to bang on neighbors' doors, bellowing that they needed to leave, before jumping into her car with Heric and his six-year-old daughter, Emma.
"It just jumped the freeway and moved so fast it was unreal," said Larkin, a 28-year-old dispatcher for the Santa Rosa Junior College Police Department. "I'm still not sure if some of my neighbors made it out. There's a few still missing."
As of Thursday, 31 people, nearly half in the Santa Rosa area, had died since the group of more than 20 wildfires started tearing across Northern California's winery country overnight Sunday. Fueled by strong, gusty winds, the wall of fire jumped freeways and incinerated buildings with indiscriminate fury, from fast food restaurants, to historical landmarks and homes in Sonoma Napa, Sonoma, Mendocino, and other counties.
The sheer speed and force of the fires engulfed entire neighborhoods without warning, including Coffey Park, a subdivision where hundreds of homes were reduced to bent metal, charred vehicles, and rubble. On Thursday, pieces of mail and magazines added bright spots of color to otherwise ash-covered, abandoned streets.
Officials estimate the flames destroyed 2,834 homes in Santa Rosa alone as recovery crews are still searching for bodies. The already-historic death toll is expected to continue to climb, with nearly 400 people still reported missing in Sonoma County as of Thursday, Sheriff Rob Giordano said.
"So far, in the recoveries, we have found bodies that were almost completely intact and bodies that were nothing more than ash and bone," he said.
Debbie Bratverg, a 60-year-old Coffey Park resident, only had time to chase down her second cat and grab photographs off the fireplace before jumping in the car with her husband and hitting the road with thousands of others.
"We know one person didn't make it out," she said. "You could hear the propane tanks exploding nearby."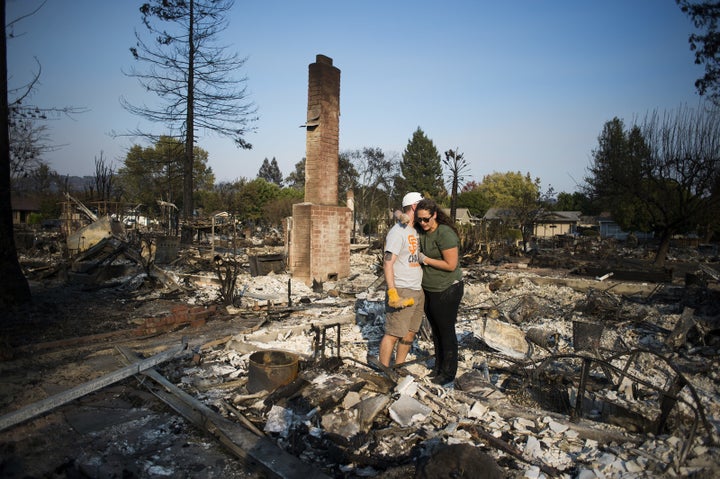 Nick Belliveau comforts his wife Alyssa after their home was completely destroyed by wildfire.
Brian L. Frank for BuzzFeed News
A few streets over, Alyssa Belliveau opened her eyes at 1:45 a.m. to a strange, whipping thunder. She took a breath and smelled smoke. When she looked outside, it was as if their two-bedroom house had been dropped into a dust cloud.
"We didn't know what was happening," the sixth-grade teacher said. "No one expected it to be this devastating."
The 29-year-old woke up her husband, Nick, who corralled their two dogs, 11-month-year-old daughter, and a pair of tennis shoes for his wife. By that time, a police car was circling the streets imploring people to leave, but the wind was so overwhelming it drowned out his speaker.
"It was the loudest silence," said Alyssa, who also darted outside banging on neighbors doors whose lights were still off.
She ran around her home of six years, reaching for everything her daughter might need, forgetting her own wedding album and favorite earrings. Her husband regrets not taking his baseball glove, a Giants-signed baseball he was saving for his daughter, and the only photos he has of his father, who died recently.
"It's like he's really gone now," Alyssa said. "There's no rhyme or reason to what you grab."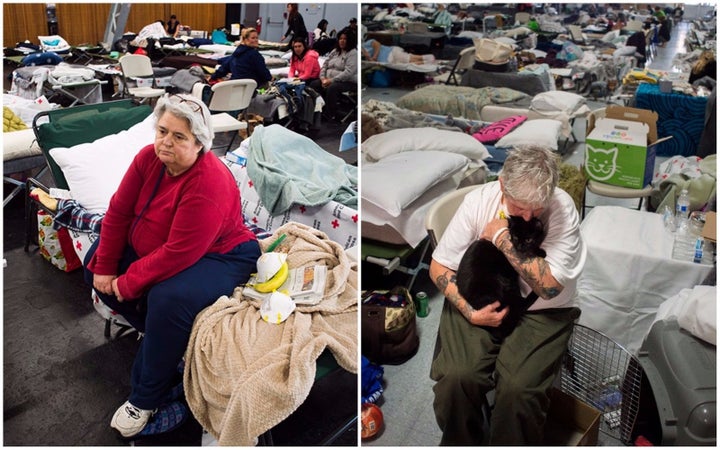 Deah Winter and Sharla Holland sit on their cots at the Sonoma County Fairgrounds shelter after evacuating.
Brian L. Frank for BuzzFeed News
Kicking around some newly donated fuzzy blue slippers at the massive shelter that's taken over the Sonoma County Fairgrounds, 65-year-old Deah Winter said she saw flames a few blocks away and yelled out her door.
"Her voice is what woke me up," her 58-year-old neighbor, Sharla Holland, chimed in. "it was the worst thing I've ever seen."
The two disabled women flagged down a car to help get them out of the complex. Now settled at the same shelter, Holland says she doesn't know what would have happened if Winter hadn't screamed at her door.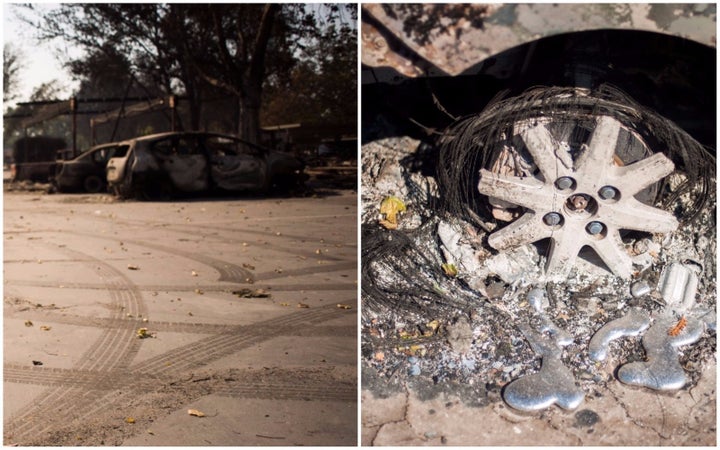 Brian L. Frank for BuzzFeed News
Dozens of people relayed their harrowing escapes, each one remarking how the fire moved so fast that emergency crews couldn't send out alerts fast enough. Many only got out because frantic neighbors were banging on their doors, half-dressed and clutching clawing pets.
"I got an alert saying 'wind-driven fire in Fountaingrove' (an area of Santa Rosa now completely destroyed) and we had already evacuated," Nick Belliveau said.
At the more than 35 shelters set up in churches, schools, and community centers across the counties, people walked around dazed, either wearing what they fled in or donated clothing. One man was reading the morning paper in a tweed blazer and gym shorts next to a woman wrapped in a Red Cross blanket watching a movie on her computer.
Mental health volunteers, masseuses, and acupuncturists tended to a steady stream of patients milling around after breakfast.
"We all want to talk about it, but don't know what to say," Marcy, who asked to only be referenced by her first name, said from her cot at the Fairgrounds shelter. "No one expects this to happen in a city."
While Santa Rosa is still what Giordano calls an "active disaster," residents are remaining positive and throwing themselves into organizing the mounds of donations pouring in from across the nation.
Nick Belliveau, a Sebastapool police officer, helped evacuate people on his bike as his house burned early Monday.
"I had been wanting a new truck," he joked, gesturing to the burnt-out car in his driveway. "Now I get to go car shopping."
LINK: Live Updates: California Grapples With Deadliest Week Of Wildfires In State History
LINK: The San Francisco Bay Area Is Covered In Smoke. Is It Safe To Breathe?
Source: https://www.buzzfeed.com/usnews.xml