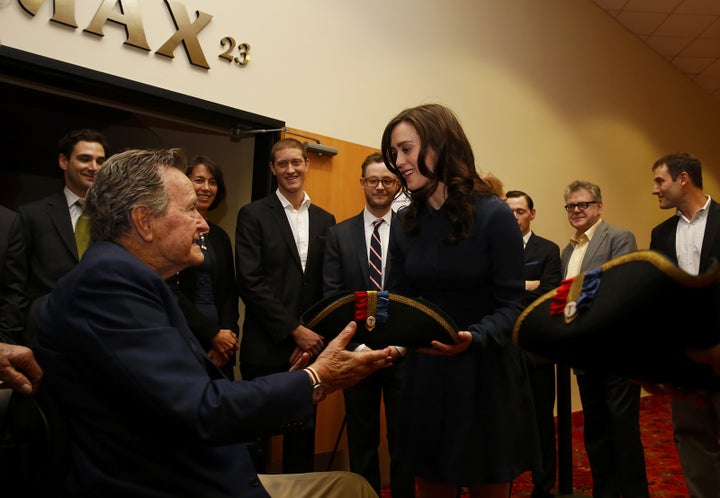 Bush meeting Lind in 2014.
Aaron M. Sprecher / Invision for AMC
Former president George H.W. Bush has apologized after an actor accused him of touching her from behind while they posed for a photograph in 2014.
In a subsequently deleted Instagram post, actor Heather Lind wrote that she met the former president while promoting a television show she was working on, AMC's Turn.
According to People magazine, Lind wrote that "he sexually assaulted me while I was posing" for a photo and allegedly told her a "dirty joke."
"He didn't shake my hand. He touched me from behind from his wheelchair with his wife Barbara Bush by his side," Lind wrote on Instagram. "He told me a dirty joke. And then, all the while being photographed, touched me again."
The 34-year-old actor wrote the former first lady "rolled her eyes as if to say 'not again,'" and that Bush's security guard told Lind she should not have stood next to the former president for the photo.
She added:
We were instructed to call him Mr. President. It seems to me a President's power is in his or her capacity to enact positive change, actually help people, and serve as a symbol of our democracy.
What comforts me is that I too can use my power, which isn't so different from a President really. I can enact positive change. I can actually help people. I can be a symbol of my democracy. I can refuse to call him President, and call out other abuses of power when I see them. I can vote for a President, in part, by the nature of his or her character, knowing that his or her political decisions must necessarily stem from that character.
Lind said she was speaking now about her experience following "the bravery of other women who have spoken up and written about their experiences."
Former president Bush's spokesman, Jim McGrath, issued a statement saying, "President Bush would never — under any circumstance — intentionally cause anyone distress, and he most sincerely apologizes if his attempt at humor offended Ms. Lind."
The allegation comes after dozens of women have come forward in the past few weeks accusing movie producer Harvey Weinstein of sexual assault and harassment. Weinstein has denied any allegations of non-consensual sex.
Since the allegations of assault were first reported in The New York Times and the New Yorker, many more women have shared stories of assault and harassment against other influential people in Hollywood and other industries.
BuzzFeed News has reached out to Lind for additional comment and to ask why the post was deleted.
Source: https://www.buzzfeed.com/usnews.xml