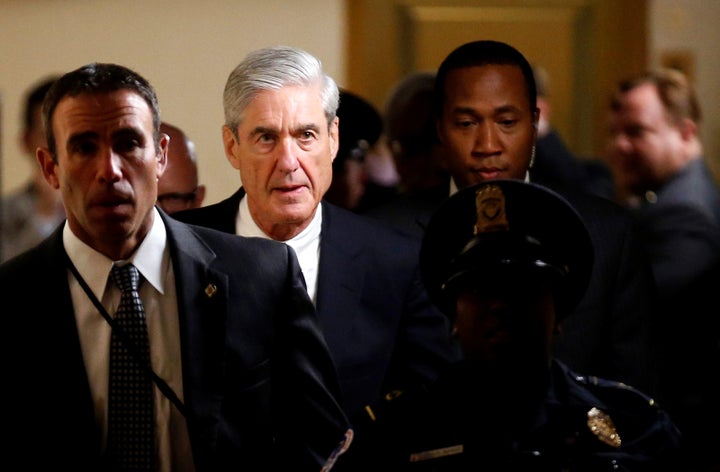 Robert Mueller in Washington, DC, on June 21.
Joshua Roberts / Reuters
The first charges stemming from special counsel Robert Mueller's investigation into Russian meddling in the 2016 election were reportedly filed on Friday, marking the most significant development yet in the inquiry that began last year.
The charges approved by a federal grand jury in Washington, DC, remained sealed Friday evening, meaning it was not immediately known what they entailed or who they were against, CNN reported, citing sources briefed on the matter. The people facing charges, it said, could be taken into custody as early as Monday. Reuters later confirmed the report.
The investigation, which began last year, is seeking to determine Russia's involvement in the 2016 presidential election, as well as if anyone in Trump's campaign colluded with the Kremlin. Former FBI Director James Comey led the investigation until Trump fired him in May amid significant controversy.
After Comey's ouster, Deputy Attorney General Rod Rosenstein appointed Mueller to lead the investigation. By June, Trump himself was reportedly under investigation for obstruction of justice.
Later this summer, Mueller convened a federal grand jury in Washington, DC, in the case. The grand jury then reportedly issued subpoenas about a 2016 meeting between Donald Trump Jr., President Trump's son-in-law Jared Kushner, then-campaign manager Paul Manafort, and a Russian lawyer.
US intelligence agencies have concluded that Russia did in fact work to influence the election. However, Trump has denied both any wrongdoing by his campaign and any ties to Russia, calling the investigation a "witch hunt."
LINK: Here's How A Grand Jury Works
LINK: Welp, A Grand Jury Has Been Convened In The Russia Investigation
LINK: Trump's Son In Crosshairs Of Special Counsel Mueller
LINK: President Trump Has Fired FBI Director James Comey
Source: https://www.buzzfeed.com/usnews.xml