More than a dozen TripAdvisor users said they've had similar posts deleted, many of which were about being sexually assaulted at the same resort.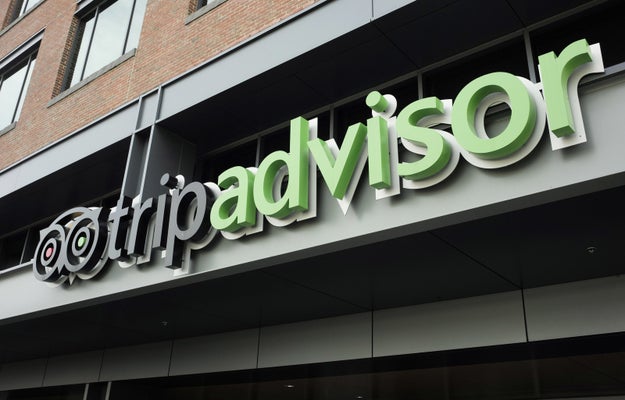 Steven Senne / AP
Nearly seven years ago, Kristie Love logged onto the TripAdvisor forums to tell her story about staying at the Iberostar Paraiso Maya beach resort in Mexico: after asking for help with a faulty keycard one night, she says a uniformed guard dragged her into the bushes and raped her. Then the hotel staff refused to call the police.
Love's post, a warning about what she says happened to her, didn't stay up on the travel site for long. A TripAdvisor moderator deleted it after deciding it violated the site's "family friendly" content rules.
And Love, who is now 35, was by no means the only one this has happened to.
In an explosive investigation published by the Milwaukee Journal Sentinel on Wednesday, more than a dozen TripAdvisor users said they've had posts warning of dangerous hotel conditions removed, some of which were about being sexually assaulted at the same resort in Riviera Maya, Mexico.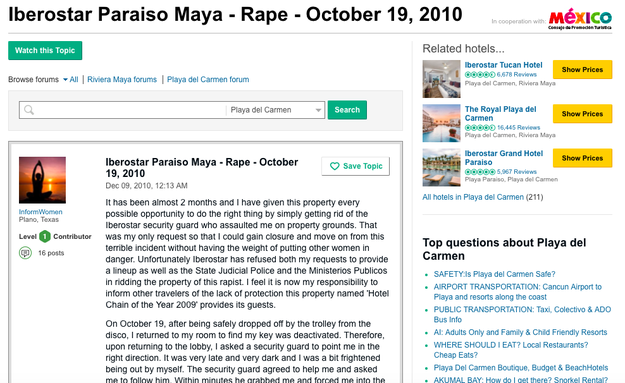 Love's review, which was restored to TripAdvisor this past October
TripAdvisor
Just a year after Love says she was raped there, a 19-year-old woman vacationing with her family at the same Iberostar location reportedly told hotel officials a security guard raped her in a bathroom.
And at the same location in 2015, 34-year-old Jamie Valeri said she was sexually assaulted when she and her husband both blacked out in the middle of the day after just a few drinks.
Valeri tried to write about what happened on TripAdvisor, but it was reportedly deemed "hearsay" and removed.
If Love's post had stayed up on TripAdvisor, "maybe we wouldn't have gone or maybe that wouldn't have happened to me," Valeri said.
In another instance, a woman reportedly posted on TripAdvisor asking whether it was safe to vacation in Riviera Maya after hearing tourists had been assaulted, raped, robbed, and had even died.
In just 10 days, 55 people had replied. Twenty-four comments said they'd be fine, and four were deemed irrelevant.
The other 27 replies were deleted from TripAdvisor and replaced with a message saying they'd been "determined to be inappropriate by the TripAdvisor community," taken down because they were "off-topic" or included content that was not "family friendly."
TripAdvisor refused to show the Journal Sentinel what those 27 replies had said.
A spokesperson for Iberostar did not immediately respond to a request for comment.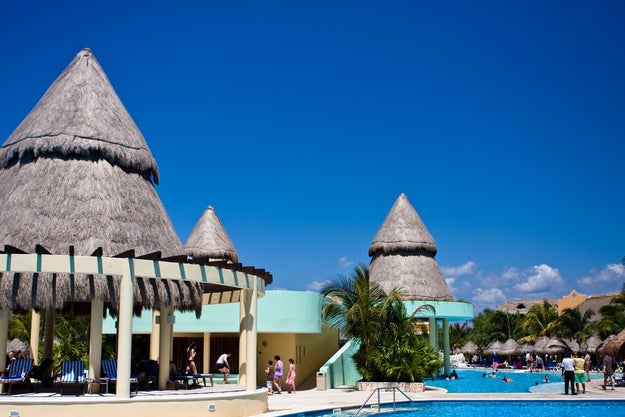 The pool at Iberostar Paraiso Maya
acjetter / CC BY-NC-ND 2.0 / Via Flickr: acjetter
Love's post was restored to TripAdvisor just this past October, exactly seven years to the day after she says she was raped. Still, it was reposted in chronological order, and datemarked 2010 — buried thousands of pages within a forum of over 100,000 posts.
In response to the article on Wednesday, TripAdvisor put out a statement apologizing to Love, "the sexual assault victim reported on in the article, who had her forum post removed seven years ago on TripAdvisor."
They said that "all language needed to be G-rated" when Love posted her review in 2010, but that a few years ago they "changed that policy to allow more descriptive reviews on the site about first-hand accounts of serious incidents like rape or assault."
And, following that policy change, those posts have poured in to TripAdvisor.
"A simple search of TripAdvisor will show numerous reviews from travelers over the last several years who wrote about their first-hand experiences that include matters of robbery or theft, assault, and rape," said TripAdvisor.
Source: https://www.buzzfeed.com/usnews.xml