A Twitter account that has spread misinformation in the past claimed The Washington Post offered to pay for accusations against Roy Moore, but offered no proof.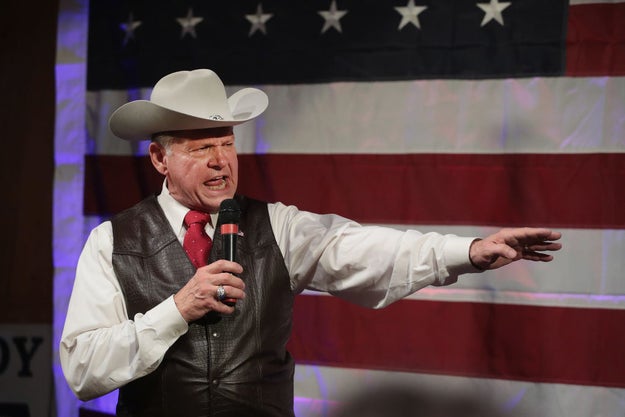 Roy Moore, the Republican nominee for Senate in Alabama, was accused Thursday of inappropriate sexual conduct by multiple women when they were teenagers, the Washington Post reported.
Leigh Corfman told the Post that Moore initiated inappropriate conduct with her in 1979, when she was 14 years old and he was 32. Three other women also told the Post that Moore "pursued" them around the same time. They were between ages 16 and 18 at the time, while Moore was in his 30s.
Moore called the allegations "yet another baseless political attack" and said the report was part of a "vicious and nasty round of attacks" from "The Obama-Clinton Machine's liberal media lapdogs."
Scott Olson / Getty Images
After the accusations were reported, some pro-Trump commentators downplayed and twisted the accusations against Moore.
Conspiracy theorist Alex Jones, who heads the website InfoWars, dismissed the allegations on his show, claiming that the women accused Moore of telling them they're "purdy."
Viewers who tuned in to the segment would not have learned that when Corfman was 14 Moore allegedly "took off her shirt and pants and removed his clothes," touching her over her bra and underwear, and guiding "her hand to touch him over his underwear."
A baseless conspiracy theory then began spreading on social media by a Twitter account that goes by the name "Doug Lewis #MAGA," and made its way to conservative websites.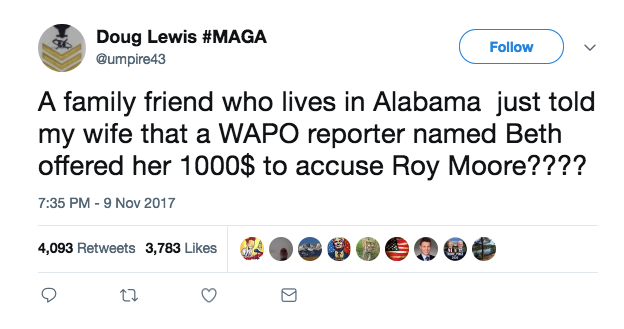 @umpire43
In a tweet Thursday, the account claimed without evidence that a Washington Post reporter offered to pay a person in Alabama to make accusations against Moore.
The Twitter user then said that they contacted an Alabama district attorney, the FBI, and Secret Service about the claim, but provided no proof.
A Washington Post spokesperson told BuzzFeed News there was no truth to the tweet. "The accusation against The Post is categorically false. We have an explicit policy that prohibits paying sources," spokesperson Shani George said.
The Twitter account has spread misinformation in the past. One example came earlier this week when it falsely claimed the gunman responsible for killing 26 people in a Texas church was an "antifa," or anti-fascist activist.
That false theory was pushed by pro-Trump commentators hours after the shooting took place.
The user has also repeatedly tweeted about their military service service record, but has miscounted the number of Purple Hearts they allegedly received. One Twitter thread challenged the user's military-related claims in detail.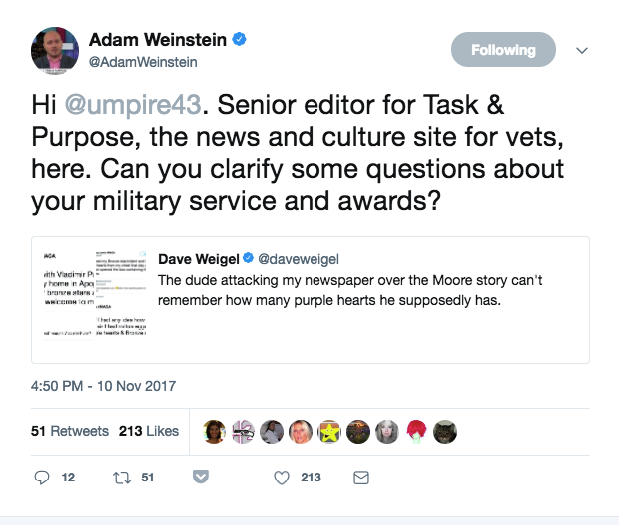 BuzzFeed News was unable to verify the identity of the Twitter user. The person has not posted any links to a personal social media profile, has no personal photo, and has not responded to a request for information.
A man named Doug Lewis who lives in the Florida city listed on the user's profile told BuzzFeed News he doesn't have a Twitter account.
The account also claimed to have "state proof" that former President Obama's birth certificate was faked.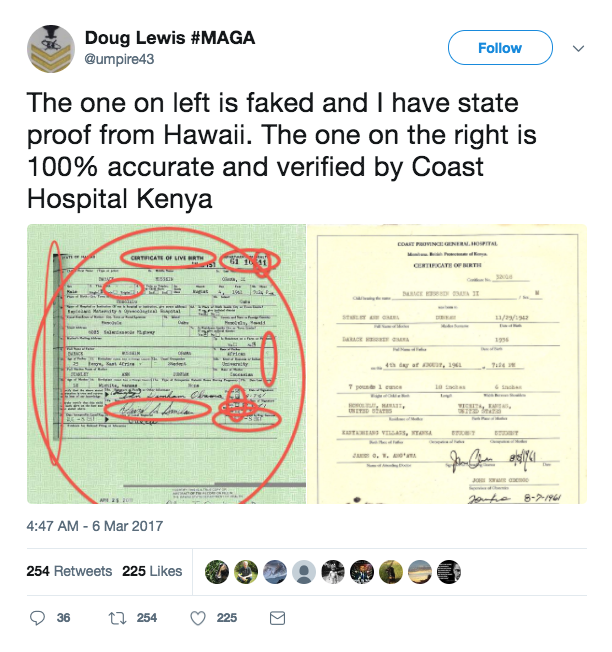 President Obama was, in fact, born in Hawaii.
Twitter
Despite the evidence that @umpire43 was spreading misinformation, pro-Trump websites treated it as a legitimate claim.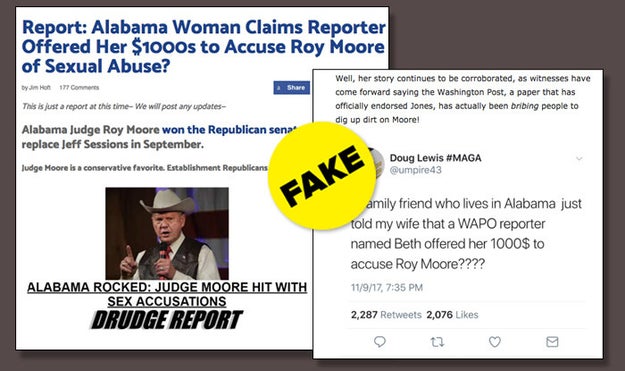 According to social tracking tool BuzzSumo, a post parroting the Twitter user's claim on the far-right website, the Gateway Pundit, has already received more than 7,500 likes, shares, and comments on Facebook, and nearly 4,000 engagements on Twitter.
Screenshots
InfoWars also published the claim, asking if the accusations against Moore were "already debunked?"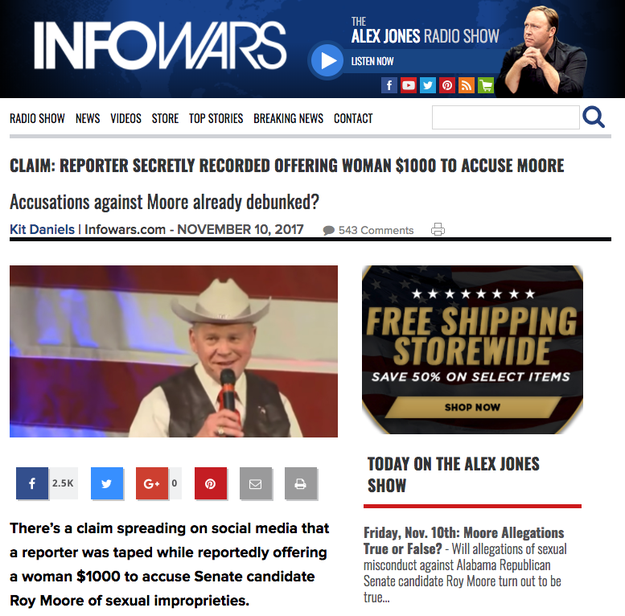 InfoWars
Moore's official Senate campaign Facebook page shared another Gateway Pundit article that claimed to discredit the Post's reporting as a "complete fabrication," without providing any evidence.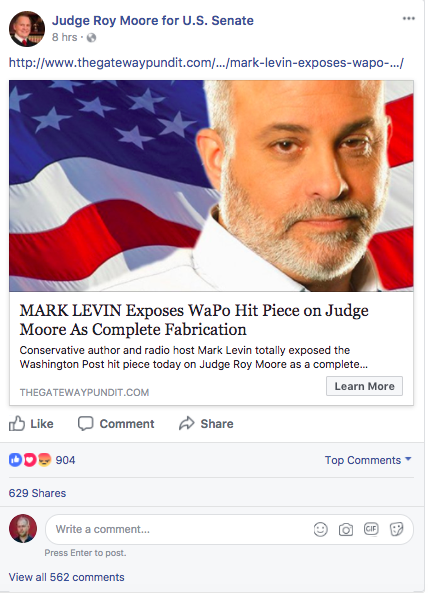 The Gateway Pundit article is based on a Nov. 9 episode of the conservative talk radio program The Mark Levin Show. The description of the episode claims, "The Post was fed this information by someone or some group," but offers no proof to back up the claim.
According to BuzzSumo, people liked, shared, and commented on the Gateway Pundit story more than 1,400 times on Facebook and shared it nearly 7,600 times on Twitter.
Facebook
Some pro-Trump commentators have also worked to cast doubt on the Washington Post's reporting on Twitter.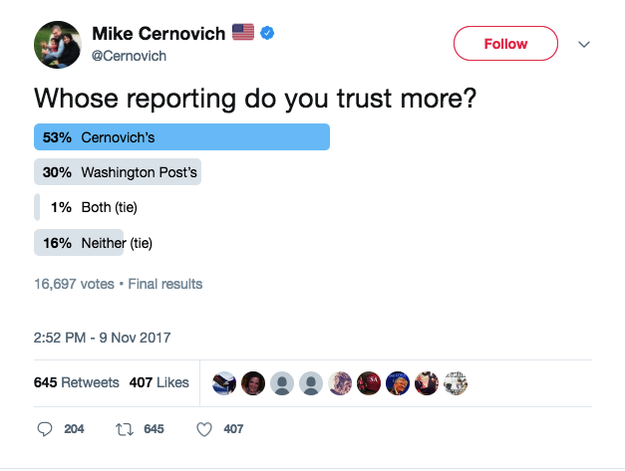 But despite a complete lack of evidence supporting the conspiracy theory, right-wing figures and others are continuing to share it on social media.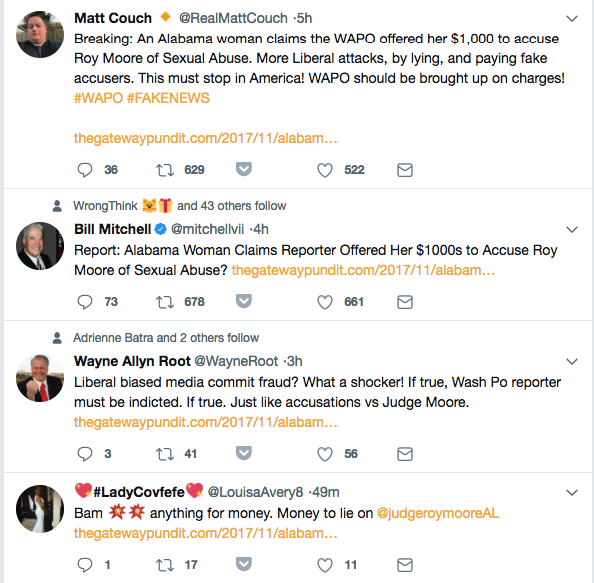 Screenshot Twitter
Source: https://www.buzzfeed.com/usnews.xml