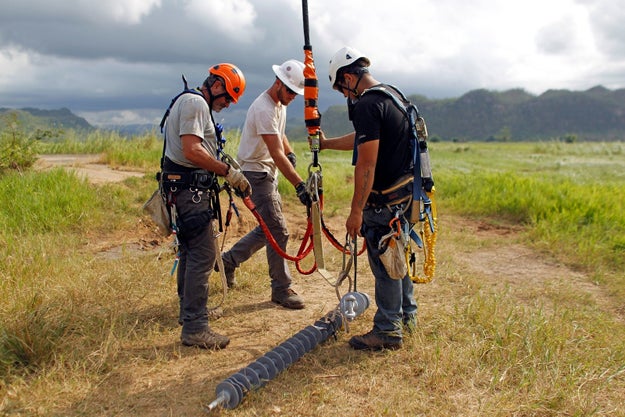 Ricardo Arduengo / AFP / Getty Images
In the lead-up to two Congressional hearings on Puerto Rico's disaster recovery on Tuesday, documents from Puerto Rico's Electric Power Authority show that officials within the agency had concerns over the Whitefish Energy contract even as it was being advanced.
The documents, obtained by the House Committee on Natural Resources and released on Monday night, include internal emails from PREPA and also between PREPA, Whitefish Energy and FEMA.
In one email, dated October 19, PREPA official Sammy Rodriguez Ortega wrote that the agency's Office of Risk Management had not evaluated the Whitefish Energy contract, and had not received required proof of insurance
"We are conscious of the urgency of the work to be done, however, there are high risks associated with the scope of this work. In the future we recommend establishing direct and effective communication to speed up evaluations of this
scope," Ortega wrote. "We have always been available to attend to any matter in which our Office can contribute. I should point out that the scope of Whitefish's work does not clearly establish whether they will work on the restoration fiber optic that runs through the ground cable of the lines."
In another email dated October 12, a lawyer working for FEMA in Puerto Rico, Graciela E. Zavala-Garcia, wrote, "We have elevated this contract issue to our Headquarters Office of Chief Counsel. It has been concluded that the PREPA contract does not contain some necessary provisions."
The documents show that PREPA lawyers provided guidance on how the contract should be constructed, including termination, payment, and bonding recommendations—which were not reflected in the final contract signed by PREPA and Whitefish.
"A legacy of dysfunction (at PREPA) has created a competence deficit that threatens the Island's ability to improve conditions for its citizens," Rob Bishop, Chairman of the House Committee on Natural Resources said in a statement. "Confidence in the utility's ability to manage contracts and time-sensitive disaster-related infrastructure work is long gone."
Whitefish Energy did not immediately respond to a request for comment on the documents.
On Tuesday morning, Puerto Rico Governor Ricardo Rosselló testified before the Senate Committee on Energy and Natural Resources, reiterating that decisions were made under emergency conditions when asked about the Whitefish contract.
Responding to a question from Senator Lisa Murkowski asking whether in retrospect it would have been better to use mutual aid contracts with public utilities instead of the private contract with Whitefish Energy, Rosselló said the decision was made partly because he expected the Army Corps. of Engineers' work on the island to be more efficient.
"We chose under the understanding that things were going to pick up quickly," he said, adding later that "it is public record that I was not satisfied with the initial deployment of the Corps. Of Engineers."
In response to a question from Senator Mazie Hirono about his cancellation of Whitefish Energy's $3 million contract, Rosselló said the two investigations he ordered into the contract are ongoing.
"We are committed to transparency and we are committed to finding out the truth in this," he said.
Rosselló said he is requesting $17 billion from Congress to be used towards rebuilding efforts.
"This is our initial damage assessment. I want to state that we worked on this with third parties … we are also including and separating what it takes to put it back together and what it takes for it to be resilient towards the future."
"What we're asking is equal treatment," with other parts of the US which have been hit by hurricanes this year, he said, adding, "What I cannot accept is unequal treatment towards the US citizens of Puerto Rico."
He said authorities in Puerto Rico expect to restore the electric grid on the island to 50% capacity by Wednesday this week, and that in the long-term he aims for the Puerto Rican power grid to consist of 25% renewable energy.
PREPA chief Ricardo Ramos, in his testimony before the senate hearing, defended authorizing the Whitefish Energy contract.
"I chose to contract with Whitefish because my priority was securing the immediate assistance of first responders that we desperately needed," he said, adding that he did not think PREPA could fulfill the requirements of mutual aid contracts with public utility companies from other states, such as providing accommodation and supplies for workers.
"There were no logistics in Puerto Rico. There were, for the first couple of weeks, no fuel, no phone, no internet, no nothing."
He said the mutual aid system would not have worked for Puerto Rico because it is not part of the continental U.S.
"I think we need to revise mutual aid agreements in terms of PREPA. PREPA doesn't have a neighbor. The only neighbor is St Thomas… they were devastated as well," he said.
Asked if there was a misunderstanding in Puerto Rico about the nature of mutual aid agreements, Ramos said, "What I am saying is that Puerto Rico is not part of the continental USA so that the concept of neighbor companies coming to the aid gets changed. The market basically sets the rate."
Rosselló will also appear before a House Natural Resources Committee hearing on Tuesday afternoon.
LINK: How A Two-Person Montana Company Ended Up With The Biggest Energy Contract In Puerto Rico
LINK: Puerto Rico Just Canceled Whitefish Energy's Contract To Rebuild The Electrical Grid
Source: https://www.buzzfeed.com/usnews.xml