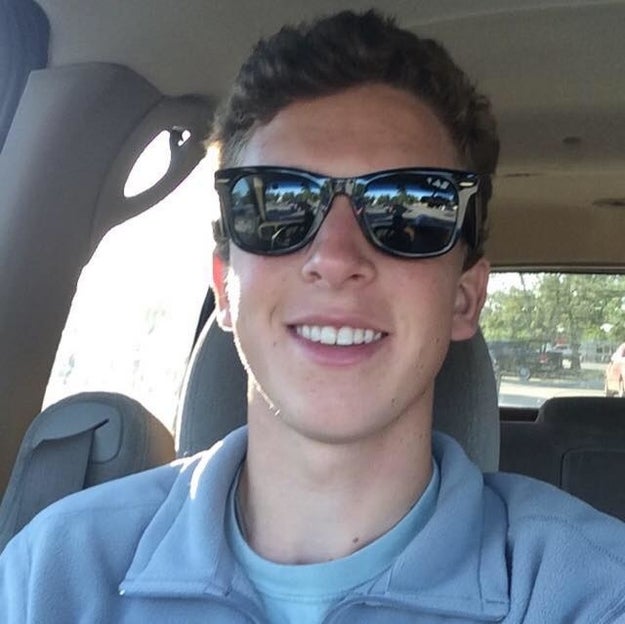 Matthew Ellis
Facebook
Texas State University suspended all activities at fraternities and sororities on Tuesday, following the death of a 20-year-old sophomore at an off-campus event hosted by members of a fraternity.
Matthew Ellis, a Pi Kappa Phi pledge, was found unresponsive on Monday morning after attending a private fraternity event at an apartment on Sunday night, authorities said. He was pronounced dead at the scene after EMS personnel were unable to revive him.
Authorities investigating the incident said alcohol may be a factor in his death and are awaiting autopsy results.
Following his death, President Denise M. Trauth suspended the activities of all fraternities and sororities at Texas State.
"These chapters are prohibited from holding new-member events, chapter meetings, social functions, and philanthropic activities until a thorough review of the Greek Affairs system is completed," Trauth said in a statement.
San Marcos Police Department found Ellis unresponsive and dead at the residence at 11:30 a.m. Monday.
Four of the individuals who lived at the apartment were fraternity members and Ellis was spending the night there, police said.
Initial interviews with the people at the scene indicated that they had been drinking Sunday night at a fraternity party, a police spokesperson said Tuesday, adding that "alcohol may be a factor" in Ellis's death.
Police said it was too early in the investigation to confirm if this was a hazing-related death. While no one has been arrested so far, police said charges in such cases could range from furnishing alcohol to a minor to manslaughter.
Texas State has been investigating Phi Kappa Psi since Oct. 4 following a complaint that was made against the fraternity on Sept. 21, Matt Flores, a spokesperson for the university, told BuzzFeed News on Wednesday. He did not provide details of the complaint, adding that the matter remains under review.
In a statement on Tuesday, the national organization for Phi Kappa Psi said that the Texas State chapter had been suspended last week for "unrelated matters" and added that it would remain suspended during an ongoing investigation.
The fraternity did not disclose what the "unrelated matters" were but said that it would "continue to work closely with the TSU administration and law enforcement during their review of this matter, and have advised all members to cooperate fully."
"We are heartbroken by the death of Texas State University student and Phi Kappa Psi new member Matthew Ellis," Phi Kappa Psi Executive Director Mark Guidi said in the statement. "Our thoughts and prayers are with his family, friends and the entire TSU student body during this difficult time."
Timothy Piazza
Facebook
The incident comes in the wake of the death of another Pi Kappa Phi pledge at Florida State University. On Nov. 3, 20-year-old Andrew Coffey was found unresponsive after attending an off-campus fraternity party. Police said his death may be alcohol-related. Last week, Florida State University indefinitely suspended all fraternities and sororities following Coffey's death.
On the day that Ellis was found dead, prosecutors in Centre County, PA, announced a slew of new charges against 12 members of the Beta Theta Pi fraternity at Penn State University in relation to the hazing death of 19-year-old sophomore, Timothy Piazza. Eighteen members of the fraternity had already been charged after Piazza's death following an alcohol-fueled pledging event where members were seen on video giving the teen at least 18 drinks in an hour and 22 minutes.
A judge dismissed the most serious charges — including involuntary manslaughter and aggravated assault — against the original defendants during a preliminary hearing. After Piazza's death, Penn State banned all fraternities' social events involving alcohol. The university also suspended the Delta Tau Delta fraternity pending an investigation into an 18-year-old student who was found unconscious in the street after allegedly drinking alcohol at the chapter in September.
Last month, 10 members of the Phi Delta Theta fraternity were arrested in connection with the hazing death of 18-year-old Louisiana State University student, Maxwell Gruver at a pledging event. His death was ruled an accident caused by "acute alcohol intoxication with aspiration."
LINK: There Are New Charges In The Penn State Hazing Death After The FBI Recovered Deleted Video
LINK: 10 Fraternity Members Arrested In Connection With 18-Year-Old Student's Hazing Death
LINK: A Penn State Fraternity Was Suspended After An Allegedly Drunk Student Was Found Unconscious
Source: https://www.buzzfeed.com/usnews.xml