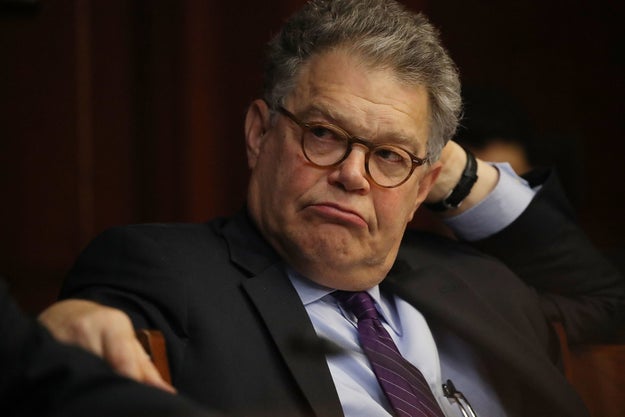 Joe Raedle / Getty Images
A morning news anchor in Los Angeles is accusing Minnesota Democratic Sen. Al Franken of kissing and groping her without consent in 2006, when he was a comedian headed to entertain U.S. troops overseas along with other celebrities.
In a first-person post on talk radio KABC's website, Leeann Tweeden writes that Franken, the headliner for the show organized by the United Service Organizations, wrote her into his script without asking for her input. "When I saw the script, Franken had written a moment when his character comes at me for a 'kiss'. I suspected what he was after, but I figured I could turn my head at the last minute, or put my hand over his mouth, to get more laughs from the crowd," Tweeden writes.
But Franken repeatedly insisted, according to Tweeden, on rehearsing the scene beforehand, making her uncomfortable.
"I said 'OK' so he would stop badgering me," Tweeden writes. "We did the line leading up to the kiss and then he came at me, put his hand on the back of my head, mashed his lips against mine and aggressively stuck his tongue in my mouth."
"I immediately pushed him away with both of my hands against his chest and told him if he ever did that to me again I wouldn't be so nice about it the next time."
When Tweeden returned to the U.S., she said she was looking through a CD of photos provided by a photographer on the trip and found one of the now-senator groping her while she was asleep. Tweeden's post includes the photo, which shows Franken smiling and touching her breasts while posing for the camera.
In a statement, Franken said he had a different account of the rehearsal and regrets taking the picture.
"I certainly don't remember the rehearsal for the skit in the same way, but I send my sincerest apologies to Leeann. As to the photo, it was clearly intended to be funny but wasn't. I shouldn't have done it."
Tweeden and the Minnesota Democratic Farm Labor Party did not immediately respond to BuzzFeed News for comment. Franken is the first sitting lawmaker in the aftermath of the allegations against Hollywood tycoon Harvey Weinstein to be named by an accuser of sexual misconduct.
Tweeden decided to tell her story after listening to California Democratic Rep. Jackie Speier talking about being sexually assaulted as a young congressional aide.
"At that moment, I thought to myself, Al Franken did that exact same thing to me," Tweeden wrote. "I had locked up those memories of helplessness and violation for a long time, but they all came rushing back to me and my hands clinched into fists like it was yesterday."
"Senator Franken, you wrote the script. But there's nothing funny about sexual assault."
Tweeden's account is not the first allegation of sexually inappropriate behavior against Franken. The Minnesota Democrat's first Senate campaign, in 2008, was damaged by revelations that he had made a joke in a Saturday Night Live writer's room meeting about raping the television journalist Leslie Stahl.
"I give the pills to Lesley Stahl. Then when Leslie is passed out, I take her to the closet and rape her," Franken said, according to a 1995 article in New York magazine. "Or 'That's why you never see Lesley until February. Or, 'When she passes out. I put her in various positions and take pictures of her.'"
In his 2017 book, Franken wrote that he "wasn't sorry" for the joke, which he called "stupid." "I was just doing my job," he said.
Source: https://www.buzzfeed.com/usnews.xml