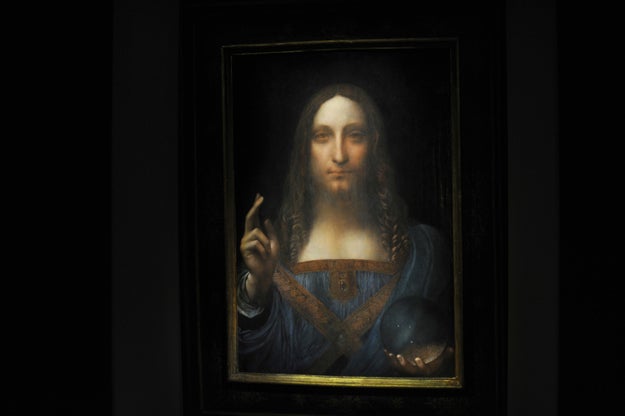 AP
"Salvator Mundi" by Leonardo da Vinci, the last painting by the Italian master to remain in a private collection, sold Wednesday for a record-setting $450 million at Christie's auction house in New York City. The bidding started at $100 million.
"Mundi" has been on exhibition for the past several weeks in Hong Kong, London, San Francisco and New York. Few da Vinci paintings survive from the Renaissance, but many of them are among the most famous works in all Western art.
Christie's also sold works by Andy Warhol, Jean-Michel Basquiat, Alexander Calder, Cy Twombly, and William de Kooning at the Wednesday auction.
The world's previous most expensive work, "Interchange" by de Kooning, sold for $300 million in 2015. The buyer, billionaire hedge fund founder Ken Griffin, purchased a work by Jackson Pollock for $200 million on the same day as "Interchange."
For comparison, Jeff Bezos bought the Washington Post for $250 million in 2013. Experts estimate that former Oracle CEO Larry Ellison bought the Hawaiian island of Lanai for $500 million in 2012.
It was not immediately clear who the buyer of "Salvator Mundi" — which is Latin for "Savior of the World" — is.
Billed by Christie's as "The Last da Vinci," was rediscovered in 2005 in Louisiana after spending centuries in obscurity. New York art collector Robert Simon purchased it in Louisiana for $10,000, thinking it a copy, and a six-year restoration process followed. During the restoration, experts discovered it was an authentic work by da Vinci.
Here's the moment it sold:
This is a developing story. Check back for updates and follow BuzzFeed News on Twitter.
Source: https://www.buzzfeed.com/usnews.xml