Greg Chism's YouTube channel, which featured videos of his girls screaming with fear, spitting up, vomiting, wetting themselves, and bathing, had more than 8 million subscribers before it was terminated.
A single dad built massively popular YouTube channels by filming his young daughters screaming in fear, bathing, pretending to be babies, spitting up food, being force-fed, and "peeing" — content that millions of people watched.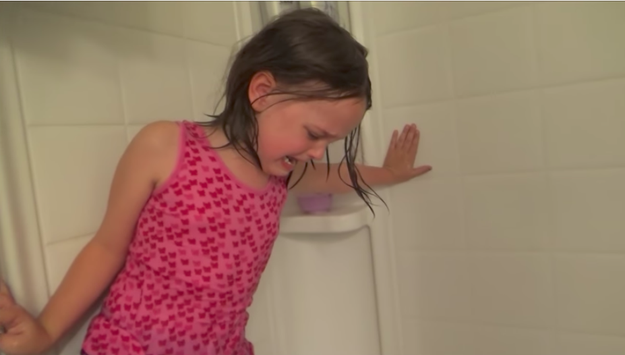 Toy Freaks
"We recently tightened the enforcement of these policies to tackle content featuring minors where we receive signals that cause concern," the statement said. "It's not always clear that the uploader of the content intends to break our rules, but we may still remove their videos to help protect viewers, uploaders and children. We've terminated the Toy Freaks channel for violation of our policies. We will be conducting a broader review of associated content in conjunction with expert Trusted Flaggers."
Two other channels that Chism operated were no longer active as of Tuesday. "This channel doesn't have any content," the homepage of Freak World read, and the channel Freak Family Vlogs, no longer existed.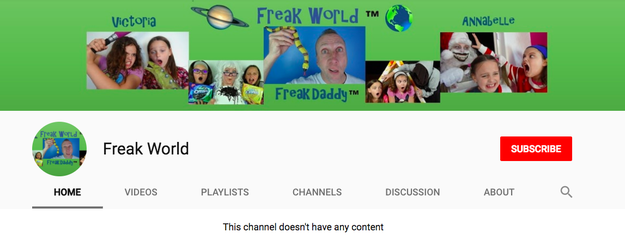 Freak World / Via youtube.com
BuzzFeed News downloaded videos before their removal from the platform. In at least two, Chism walks into the bathroom as his two young daughters, Annabelle and Victoria, are bathing to scare them with animals.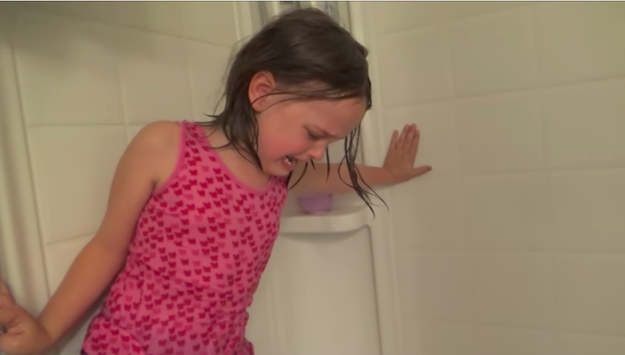 He tells them that he has a surprise and asks if they want to see it.
"No," Annabelle responds, her voice inflecting upward.
Then, as the bucket approaches the water, she says it again, "No," moving away, "No, Daddy, stop!" she screams.
She continues to scream, while balancing on the edge of the tub. "Daddy, stop!" she yells again, her voice cracking into a cry.
"He's a dirty frog," the dad says after he removes the animal.
Toy Freaks
After, he says to Annabelle, "You freaked out."
In a similar scenario, the dad walks into the bathroom once again as the girls are bathing, with another animal. Before entering, he holds up a lobster and says: "When the girls are playing in the tub, they know I'm probably bringing something in there. But it's not a snake or frog this time."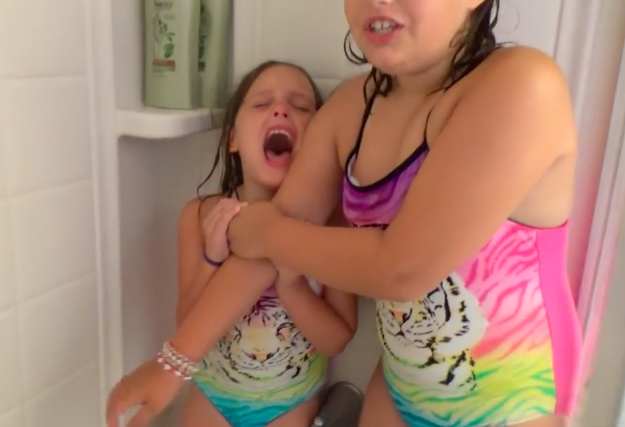 Toy Freaks
When the dad approaches the bathtub door, Annabelle is hiding behind her older sister. "Get it away! Get it away!" the little girl says, beginning to panic. After he shows them the creature, Annabelle screams.
Many of the Toy Freaks videos featured Chism and his girls dressing up like and pretending to be babies. They then pretended to engage in "baby" behavior, like spitting up, vomiting, and wetting themselves.
In one video, Annabelle coughs after spitting up what her older sister says is baby food.
"I think we need water," Victoria says, after spoon-feeding the food to her younger sister.
Toy Freaks
Annabelle spits up near the end of this clip, on to Victoria's upper back.
Another video features more footage related to bodily functions. Annabelle agains spits things up, here it's spaghetti and crayons.
In this video, Annabelle also "pees" on Victoria, and the camera zooms in on a wet spot on her bottom.
Toy Freaks
"On Nov 16, YouTube updated its Kids App and community guidelines to allow for stronger regulation and flagging ability for parents," he said. "Later that day, three of our videos that we did not know were on the Kids App were flagged by the community resulting in the Toy Freaks channel being terminated."
A spokesman for Chism told BuzzFeed News he had deleted his other channels himself as a precaution.
"With the concerns surrounding the Toy Freaks channel [Chism] thought it would be advisable to, at least in the meantime, take his other channels down," he said.
In a statement to Variety, Chism said YouTube informed him "of concerns that my videos were attracting audience members who do not have childrens' best interests in their hearts."
"Victoria, Annabelle and I want to thank our supporters as my girls have had the opportunity to develop their creativity and self-confidence over the past few years," he said. "Their future is bright. While it is disturbing to me that anyone would find inappropriate pleasure in our video skits, I deeply appreciate YouTube's concerns for my family and I could not be happier with having had this remarkable experience."
As the family's popularity grew, more videos emerged. Animated fan videos, featuring the family's likeness, have gained tons of views on the platform. This one, which was uploaded in July by a channel called Toy Cartoon, had over 500,000 views and features Victoria "peeing" on her dad.
A similar video from that channel had over 9 million views.
Both existed on YouTube on Monday, but were removed as of Tuesday morning. Other videos like them still exist.
Toy Cartoon / Via youtube.com
Videos that feature the Toy Freaks family acting like babies still existed on the platform on Monday. This screenshot is of footage that was uploaded by the "hand some" channel in October. By Tuesday, it had been removed.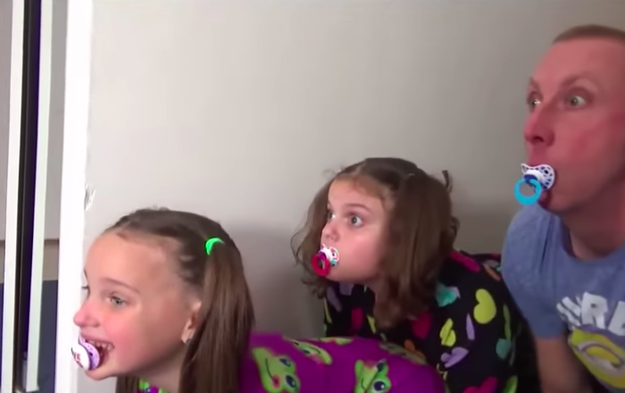 hand some / Via youtube.com
In an interview uploaded to YouTube in January of 2015, Chism described himself as a single father of two girls, ages 4 and 6.
In another interview from that same year, Chism talked about the start of Toy Freaks.
"It was just family videos. I take videos with my kids and I post them up there, and just like home stuff, you know, playing in the living room, with toys and everything," Chism said of the channel.
"I started seeing a pattern, these certain videos were getting more views than the others," he said.
"So I focused on that, I analyzed each video, the description, the titles, the tags, everything involved in making that video and just what made these a success, and I tried to repeat it and I've had some good luck with that," Chism added.
In the interview he said that one of his videos had gone viral: "It's kind of making me some money," Chism said.
Take this still available video below, from the Toys AndMe channel. It has been viewed 77 million times.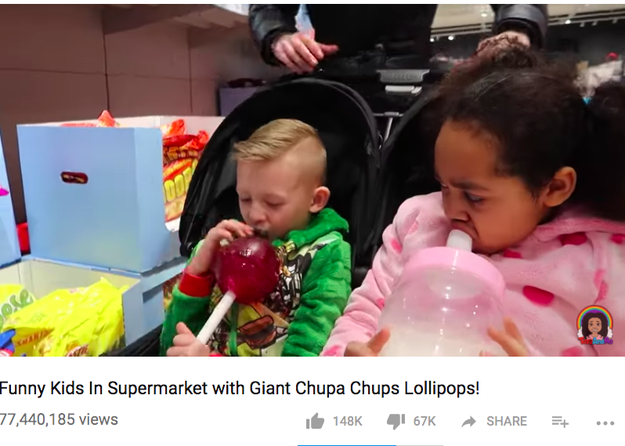 Toys AndMe / Via youtube.com
Or this one from the SIS vs Bro channel titled: "BAD BABY RONALD GROWS BIG!!!!!"
SIS vs BRO / Via youtube.com
Source: https://www.buzzfeed.com/usnews.xml