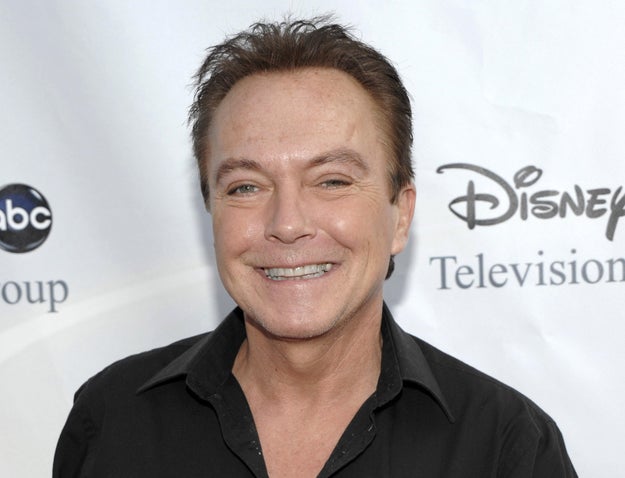 Dan Steinberg / AP
David Cassidy, the singer and performer who rocketed to stardom with The Partridge Family in the 1970s, has died. He was 67.
The cause of his death, confirmed by Cassidy's publicist Tuesday night, was not immediately known, but it came days after reportedly hospitalized in Fort Lauderdale, Florida, for organ failure.
"On behalf of the entire Cassidy family, it is with great sadness that we announce the passing of our father, our uncle, and our dear brother, David Cassidy," the family said in a statement to multiple outlets. "David died surrounded by those he loved, with joy in his heart and free from the pain that had gripped him for so long. Thank you for the abundance and support you have shown him these many years."
Though Cassidy built a four-decade-long career acting, singing, and performing, he is still best remembered for playing Keith Partridge in The Partridge Family, the long-haired, family-friendly frontman who became an instant heartthrob in the early 1970s. The role launched the young star's music career, which would include continuous concert tours, as well as performances in Broadway, London's West End, and Las Vegas, according to Cassidy's profile on his official website.
David Cassidy performing at New York City's Madison Square Garden, on March 11, 1972.
AP
Both his parents, Evelyn Ward and Jack Cassidy, were actors, perhaps sealing his fate for an entertainment career.
Earlier this year, Cassidy shared that at age 66, his health was starting to fail, and told People magazine in February that he had been diagnosed with dementia.
"I was in denial, but part of me always knew this was coming," the performer told the magazine.
His grandfather and his mother both struggled with the disease, he told the magazine.
Signs of the disease had already begun to show in Cassidy's performances. During a concert in Agoura Hills, California, earlier this year, the former teen idol was witnessed forgetting lyrics to songs he had been performing for years.
Because of his diagnosis, Cassidy stopped touring earlier this year, saying he wanted to focus on his health.
Cassidy had also battled with substance abuse in the last decade. He faced DUI charges in 2010, 2013, and 2014. He reportedly checked in to rehab in 2014, and in 2015 he faced a hit-and-run charge.
It was a rocky end to what had been a lightning-quick ascent into stardom for the singer.
The musical sitcom on which he made his name, The Partridge Family, featured a widowed mother and her five children who started a family band from their garage. Cassidy, with his toothy smile, long hair, and singing, became the face of the popular show.
In 1970, the year that The Partridge Family premiered on ABC, Cassidy held the No. 1 single and record of the year in the US, according to his professional profile. "His likeness appeared on everything from posters to lunch boxes, comic boys, toys, cereal boxes and almost everything else imaginable," it reads.
The TV show's popularity translated into musical success for Cassidy, who released seven top-selling singles during the show's run.
Cassidy is survived by two children, Katie Cassidy, 26, and Beau Cassidy, 22.
Source: https://www.buzzfeed.com/usnews.xml