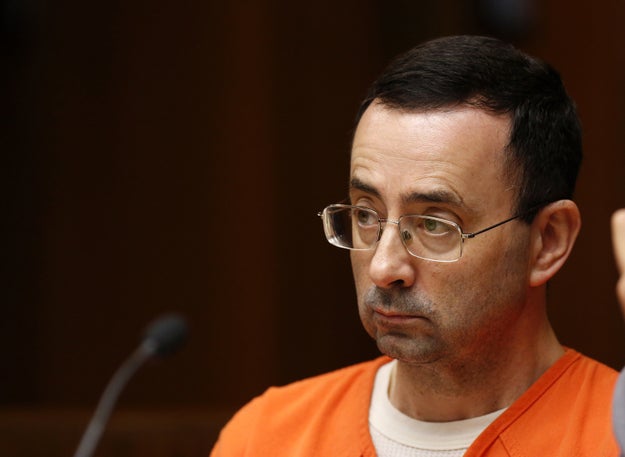 Jeff Kowalsky / AFP / Getty Images
The former doctor for the USA women's gymnastics team and Michigan State University, Larry Nassar, pleaded guilty to molesting young athletes under the guise of medical treatment Wednesday, after several women accused him of sexual assault.
Nassar pleaded guilty to seven counts of first-degree criminal sexual conduct in Ingham County Circuit Court, according to the Detroit News, and is expected to face at least 25 years in prison.
While Nassar has been accused by more than 130 women of sexually abusive behavior, the case in Ingham County stems from charges that he inserted ungloved fingers into eight women's vaginas and rectums at MSU's sports-medicine clinic when they were under the age of 16, according to the Detroit News.
"He convinced these girls that this was some type of legitimate treatment," Assistant Attorney General Angela Povilaitis said last summer, according to the New York Times. "Why would they question him? Why would they question this gymnastics god?"
He is also charged with three counts of first-degree criminal sexual conduct in Eaton County, Michigan, where he is expected to plead guilty next week. He is also awaiting sentencing after pleading guilty to federal child pornography charges in July, in which he targeted victims as young as 6 years old.
Olympic gold medalists Aly Raisman and McKayla Maroney accused Nassar of sexually abusing them when they were teenagers. The Olympic gymnasts are not part of the Michigan cases.
USA Gymnastics, the sport's governing body, fired Nassar in 2015, which is when it said it was made aware of the abuse.
Source: https://www.buzzfeed.com/usnews.xml