"I'm glad it's going slowly – you don't deserve a bullet."
Actor Uma Thurman left people reeling last month with her powerful response to a question about sexual abuse and harassment in Hollywood.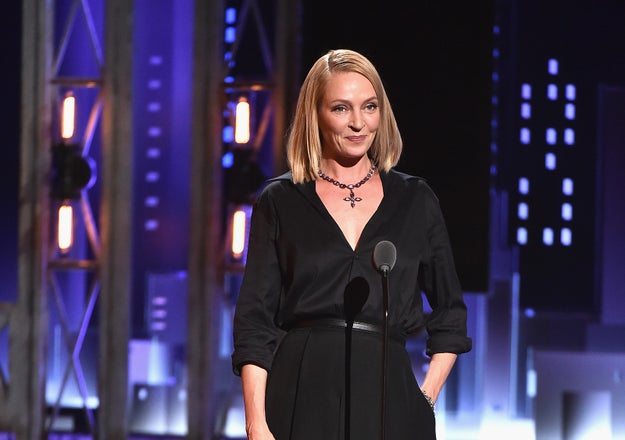 Theo Wargo / Getty Images
At least 70 women have come forward publicly in recent months with stories of sexual assault or harassment by Weinstein.
Thurman famously starred in Kill Bill, which was produced by Weinstein's former Miramax company, and the two worked together on other projects as well.
On Thursday, Thurman wrote on Instagram that she's still not ready to describe her experience with sexual harassment or abuse, using the hashtag #MeToo.
"H A P P Y T H A N K S G I V I N G," Thurman wrote in her post.
"I am grateful today, to be alive, for all those I love, and for all those who have the courage to stand up for others.
"I said I was angry recently, and I have a few reasons, #metoo, in case you couldn't tell by the look on my face.
"I feel it's important to take your time, be fair, be exact, so… Happy Thanksgiving Everyone! (Except you Harvey, and all your wicked conspirators – I'm glad it's going slowly – you don't deserve a bullet) -stay tuned."
And, she posted a still from the Kill Bill Vol. 2 teaser — where her character, the Bride, says she's driving to finally get revenge on the person who wronged her most.
[youtube https://www.youtube.com/watch?v=k7pt6Zzc1js&w=560&h=349]
"When I arrive at my destination, I am gonna kill Bill."
LINK: Uma Thurman's Viral Response To The Weinstein Scandal Is Incredibly Raw
Source: https://www.buzzfeed.com/usnews.xml