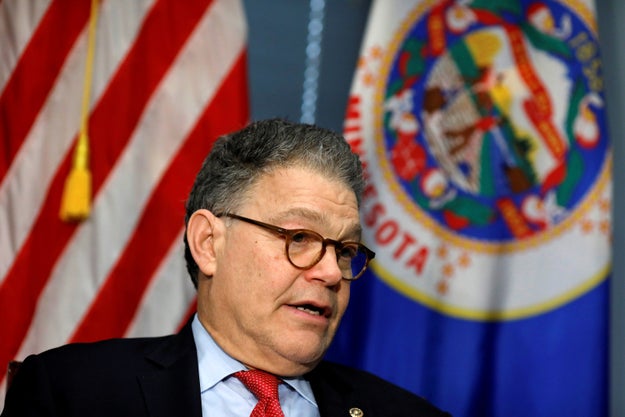 Aaron P. Bernstein / Reuters
Sen. Al Franken, a Democrat, took questions from the media on Monday and said "I am sorry" amid allegations he sexually harassed several women.
When asked if he's making it clear he won't resign his seat, he said, "I am not going to get into that or speculate on that." He added, "I am going to work to regain their trust. I am going to be accountable. We are going to cooperate completely with the ethics investigation."
Monday's news conference marked the first day Franken returned to Capitol Hill after the allegations were revealed.
In recent weeks at least four women have accused Franken of sexually harassing and groping them. On Nov. 16, radio anchor Leeann Tweeden said Franken forcibly kissed her in 2006 while the two were on a USO tour to perform for troops in the Middle East.
Tweeden also shared a photo of Franken pretending to grab her breasts while she was asleep. Hours after Tweeden's account, Lindsay Menz tweeted that Franked grabbed her buttocks while posing for a photo in 2010.
Another two unidentified women later accused the Minnesota Democratic senator of groping their buttocks while posing for a photo and at a fundraiser during his 2008 campaign for Senate. One of the two women said Franken suggested they go to the bathroom together.
Franken denies ever asking a woman to join him in a bathroom. He had previously said he would "gladly cooperate" with an ethics investigation that Senate Majority Leader Mitch McConnell called for after Tweeden's account was published.
The senator also apologized and said he understands "why we need to listen to and believe women's experiences." He added on Nov. 23:
Some women have found my greetings or embraces for a hug or photo inappropriate, and I respect their feelings about that. I've thought a lot in recent days about how that could happen, and recognize that I need to be much more careful and sensitive in these situations. I feel terribly that I've made some women feel badly and for that I am so sorry, and I want to make sure that never happens again.
And speaking to the Star Tribune on Sunday, Franken said he was "embarrassed and ashamed," and was "looking forward to getting back to work" in the Senate in Washington DC on Monday.
"I've let a lot of people down and I'm hoping I can make it up to them and gradually regain their trust," he said Sunday.
LINK: Al Franken Acknowledges His Behavior "Crossed A Line" For Too Many Women
LINK: A Woman Says Sen. Al Franken Grabbed Her Buttocks While Taking A Photo In 2010
LINK: Sen. Al Franken Says He'll Cooperate With Investigation Into Allegations He Groped Four Women
Source: https://www.buzzfeed.com/usnews.xml