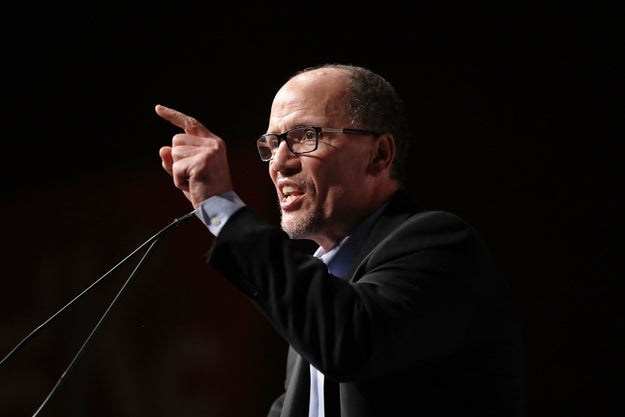 Joe Raedle / Getty Images
Democratic Party Chair Tom Perez, during a radio interview on Wednesday, would not say if he thinks Michigan Rep. John Conyers should resign after allegations of sexual harassment against the congressman have emerged in the past week.
In an interview with Newsradio WGAN on Wednesday morning, Perez was asked directly if he thinks "people like Al Franken and John Conyers should resign or stay in Congress."
Perez responded that he thinks sexual harassment is "wrong" and would not say if he thought Conyers should resign, but pointed to the House Ethics Committee investigation currently underway.
"I think that sexual harassment regardless of party, regardless of who's involved, whether its a celebrity like you just mentioned on the Today show, or if it's someone in a plant in rural Maine, or here in the nation's capitol, it's wrong," he said. "And that is why we have to be aggressive in making sure that we are both investigating it fairly and fully, giving an opportunity for women to be heard and listened to, and making sure in Congress and elsewhere that we have systems in place to prevent it."
Perez was pressed on whether Conyers should resign given that a congressional payout was involved in at least one case brought against him.
"Do you think that people like that deserve to be serving the public?" the show's host asked Perez.
"This is exactly why there's an ethics committee, and this is exactly why Congress needs to reform how it handles these issues," Perez said, adding that, "There have to be prompt but very full investigations here."
Perez's comments come a week after BuzzFeed News revealed sexual harassment allegations against Conyers, one of which he settled in a 2015 lawsuit. Since then, three other instances of sexual harassment allegations against Conyers have emerged.
Source: https://www.buzzfeed.com/usnews.xml